As a Harley trike owner, I can tell you firsthand that owning a Harley Tri Glide comes with its own set of challenges. Don't get me wrong, Harley-Davidson has been exceeding expectations since its inception in 1903, and the brand's ever-growing, fiercely loyal fanbase is a testament to that.
I've been part of the thriving trike culture that Harley-Davidson has nurtured not just in the United States, but globally. The brand's reputation for excellence has even attracted a star-studded following, making it a go-to choice for various trike clubs, including the notorious Outlaw MCs.
However, let's be real: no brand is perfect. Over the years, I've noticed that some Harley trikes, including my own, have run into issues that simply can't be overlooked. Addressing these problems head-on is not just advisable, it's essential.
So, if you're curious about what challenges you might face as a Harley Tri Glide owner, stick around. I've identified some common flaws based on my own experience and expertise.
Harley Tri Glide Features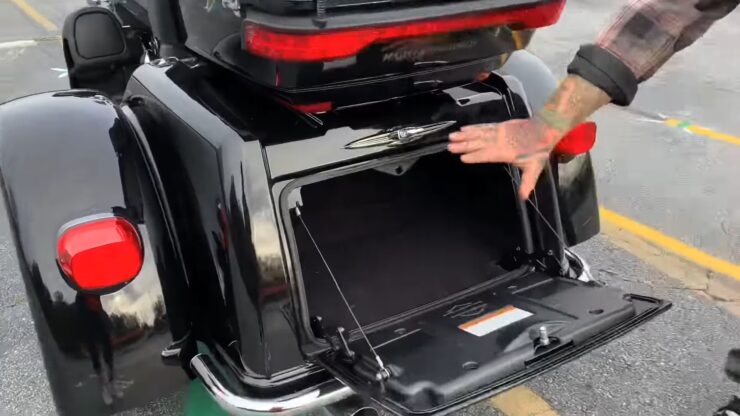 | Feature | Description |
| --- | --- |
| Engine | Twin-Cooled™ Milwaukee-Eight® 114 Engine, 1,690-cc overhead V-twin valve motor |
| Torque & Horsepower | 101 ft-lbs of torque, ~70 rear-wheel horsepower |
| Transmission | Six-Speed Cruise Drive® |
| Fuel Injection | Electronically controlled |
| Reverse | Electric-powered, standard feature |
| Steering | Electronic steering wheel |
| Brakes | Reflex™ Connected Brembo® Brakes Plus Standard ABS |
| Infotainment System | Boom! ™ Box GTS |
| Suspension | High-Performance, tuned for Trike |
| Storage | Tour-Pak® for trunks and kings, total storage space of approximately 6.8 cubic ft. |
| Lighting | Daymaker® LED Headlamp and LED Foglamps |
| Aerodynamics | Split steam Air Vent and Batwing Fairing |
| Extra Features | Premium tour capabilities, chrome extras, Tomahawk™ wheels, Kahuna™ controls |
More Than Just Specs
Sure, the table above gives you the nuts and bolts of what the Harley Tri Glide offers, but let's talk about what it feels like to actually ride this mechanical marvel. Imagine cruising down the highway, the Twin-Cooled™ Milwaukee-Eight® 114 engine purring beneath you, offering an unparalleled blend of power and smoothness. That electronic steering wheel? It's not just a feature; it's your conduit to a ride that responds to your every command.
The Boom! ™ Box GTS Infotainment System isn't just a mouthful to say; it's your gateway to a more connected, more enjoyable ride. And let's not forget the storage—whether you're a weekend warrior or a long-haul aficionado, the generous Tour-Pak® ensures you've got room for all your essentials and then some.
In essence, the Harley Tri Glide isn't just a trike; it's an experience, a lifestyle, a statement. It's the epitome of what it means to explore the world on three wheels, wrapped up in a package that's as stylish as it is functional.
Need To Service/Got Problems?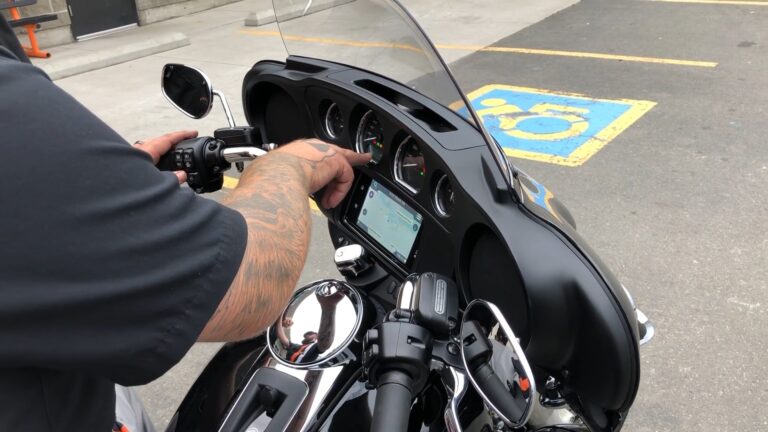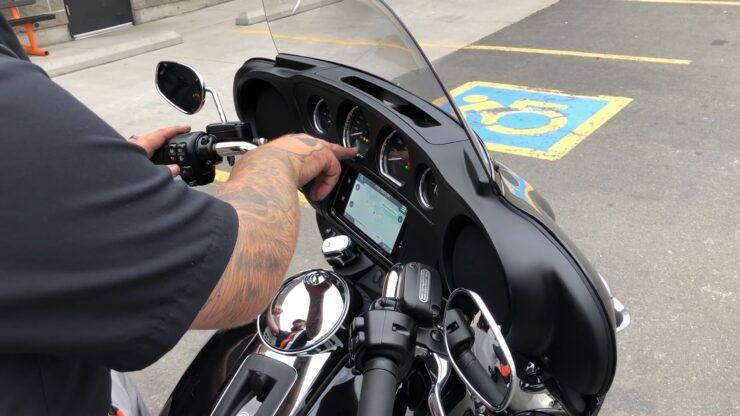 Owning a Harley Tri Glide is like being in a relationship; you need to understand its moods, quirks, and yes, even its silent cries for help. When you're cruising down the road and you notice that your trike is running hot, it's not just a mechanical issue; it's your trike telling you it's time for a check-up. The same goes for those pesky fuel management problems or that annoying radio glitch that keeps playing the same song over and over. These aren't just inconveniences; they're warning signs.
So, whether it's a minor hiccup like a seat coming apart at the seams or a more serious red flag like a failure in the reverse gear system, don't ignore it. Your Harley Tri Glide is more than just a machine; it's an extension of you. Treat it with the care it deserves, and it will reward you with miles and miles of unforgettable rides.
I have created a table of problem indicators, and the likely cause of each problem:
| Problem Sign | Possible Cause or Issue |
| --- | --- |
| Oil leaking at increased speeds | Front rocker issue |
| Reverse motor failure | Faulty reverse motor or oil pump |
| Carbon buildup in exhaust | Piston and clutch malfunction at high speeds |
| Transmission oil draining issues | Empty transmission |
| Radio auto-repeating songs | Electrical or software glitch |
| Faulty parking brake | Spring dislodgement |
| Loss of air from suspension | Air suspension failure |
| Difficulty in steering | Steering mechanism issue |
| Unequal wheel wear | Alignment or suspension issue |
| Regular parking brake adjustment | Brake mechanism failure |
| Underpowered in mountainous areas | Engine performance |
| Trike runs hot | Cooling system failure |
| Failure in reverse gear | Reverse gear system issue |
| Oil drips in exhaust | Oil leakage |
| Weak rear brakes above 30 mph | Brake system failure |
| Seat coming apart | Material or stitching failure |
| Hard to steer at corners | Steering mechanism or alignment issue |
| Fuel management problems | Fuel injection or fuel pump issues |
| Rear case bolts falling out | Exhaust bracket issues |
| Non-functional parking brakes | Brake mechanism failure |
| Reverse assembly loosening | Reverse gear system issue |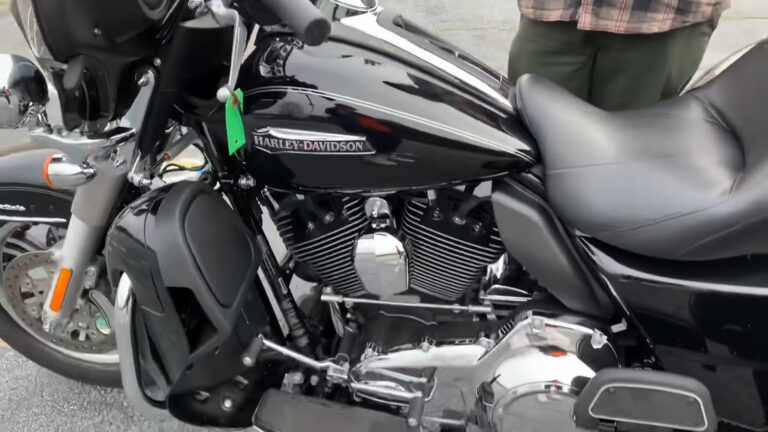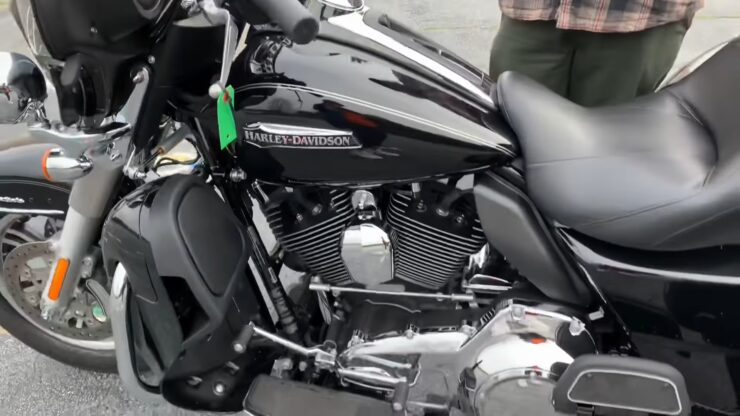 Tri Glide Recalls
If you're a Harley Tri Glide owner in the U.S., it's crucial to be aware of the latest recall information. Harley-Davidson has recently expanded its recall to include 199,419 trikes from model years 2019-2022. This recall is due to a potential issue with the brake lights, which may illuminate without the rider applying the brakes. This unintended illumination could confuse other drivers and increase the risk of a crash.
Affected Models
2019-2022 Harley FLHTCUTG Glide (Classic Ultra Tri Glide)
2020-2022 Harley Tri FLHTCUTGSE Glide (CVO Tri Glide)
2019-2022 Harley FLRT Glide (Freewheeler)
The Core Issue
The brake lights may illuminate without the rider applying the brakes, which is managed by the EHCU (electro-hydraulic control unit) on all three Harley trike versions. This could lead to unintended consequences, such as confusing other drivers and increasing the risk of a collision.
What You Need to Do
Dealers will update the software on Touring and CVO Touring motorcycles. For Trike and CVO Trike motorcycles, a new pressure switch will also be installed. All repairs will be performed free of charge.
Owner notification letters were expected to be mailed on October 26, 2022. If you own one of the affected models, you should contact Harley-Davidson's customer service at 1-800-258-2464 and reference the internal recall code 0635.
FAQ
Where Can I See A Service Outlet For My Harley-Davidson Trike?
You can find authorized Harley-Davidson service outlets through the official Harley-Davidson website's dealer locator feature. Simply enter your location, and the site will provide a list of nearby authorized dealerships and service centers. Additionally, you can also inquire at local motorcycle shops that specialize in Harley-Davidson models, but it's crucial to ensure they have certified Harley-Davidson mechanics on staff for the best results.
Where Can I See My Trike's Standard Routine Maintenance Schedule?
Your Harley-Davidson Trike's standard routine maintenance schedule can typically be found in the owner's manual that comes with your trike. This manual will provide a detailed list of maintenance tasks, along with the recommended intervals for each.
If you've misplaced your manual, you can usually download a digital copy from the Harley-Davidson website. Some dealerships also offer maintenance tracking services, where they keep a digital record of your trike's service history and upcoming maintenance needs.
What Is The Process For Getting A Substitution Key For My Trike?
If you need a replacement key for your Harley-Davidson Trike, the first step is to contact your local authorized Harley-Davidson dealership. You'll need to provide proof of ownership, such as your vehicle registration and a photo ID.
Once your ownership is verified, the dealership can either cut a new key for you on-site or order one from Harley-Davidson. Some modern Harley-Davidson Trikes come with electronic keys, and in such cases, the dealership will need to program the new key to match your trike's ignition system.
What are the Different Harley Davidson Trike Models to Choose From?
Harley-Davidson offers a variety of trike models to suit different riding needs and preferences. Some of the popular models include:
Harley FLHTCUTG Glide (Classic Ultra Tri Glide): Designed for long-distance touring with premium features.
Harley Tri FLHTCUTGSE Glide (CVO Tri Glide): A high-end model with custom options and advanced technology.
Harley FLRT Glide (Freewheeler): A more stripped-down model focused on a raw riding experience.
Each model comes with its own set of features, performance capabilities, and customization options, so you can choose one that best fits your riding style.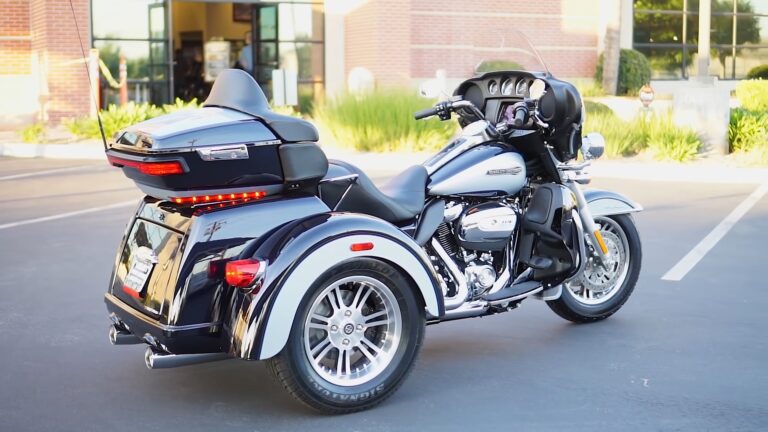 Conclusion
Owning a Harley-Davidson Tri Glide is a unique experience that combines the thrill of motorcycling with the stability of a trike. However, like any vehicle, it comes with its own set of challenges and responsibilities.
From understanding the features that make your trike special to staying updated on recalls and maintenance, being an informed owner is crucial. This guide aims to provide you with a comprehensive overview of what you need to know, from the joys of ownership to the nitty-gritty of maintenance and safety.
Ride safe, and enjoy the journey ahead!