Need a new Harley Davidson headlight bulb upgrade? Look no further!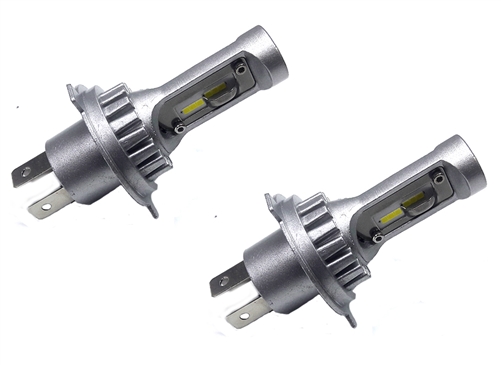 Let's be honest – changing the headlight bulb on your Harley is rare. The factory bulb lasts a long time, enough to make you think it doesn't need a change.
But it can still wear out or break. And that's where an upgrade comes in handy.
Here, we want to show you everything there's to know about Harley Davidson headlight upgrades so you can replace an old bulb by yourself – for cheap.
Check it all out!
Why Do you Need to Upgrade a Harley Davidson Headlight?
The reason is simple: to replace an old or defective bulb.
But this comes with many advantages:
Better illumination at night
More visibility in dark places
Higher bulb durability and fewer worries
And much more…
In short, replacing the factory Harley Davidson headlight comes with little to no drawbacks.
And depending on the situation, it's probably your best option.
Can I Upgrade Harley Headlight to LED?
Yes, it's totally possible. In fact, it's the best thing you can do.
The stock lights on your Harley are not necessarily deficient, but they won't provide the results you need in low-light environments (night or underground).
You can install a LED headlight to avoid this problem that most stock lights come with.
Also, consider that the newest Harley Davidson bike models come with LED lights still, so there shouldn't be the slightest of issues.
Benefits of Using LED Headlight?
The benefits are of using a LED Harley Davidson headlight bulb are countless.
But if we had to choose just a few, here's what we would highlight:
Brightness tends to be higher than incandescent bulbs
Higher-quality construction makes LEDs a lot more durable
Cooler operating temperature for a safer experience
Energy consumption lowers down exponentially
Allow directional lightning and broader coverage
More intense and clear coloration increases visibility
And these are just the obvious ones to mention. When you install a LED headlight on your Harley, you get a lot more…
What Types of Headlight Bulb Is Legal on Road for Harley?
When you go and search for headlight bulbs, you'll notice the many different types available. But the only legal ones are these:
Halogen
Like incandescent bulbs, these are pretty much the same as any incandescent light but with an extra gas inside.
This guide increases the brightness and the white color, adding extra brightness on the road.
Many bike manufacturers add halogen bulbs to their bikes because they're decently affordable and provide much better illumination than standard incandescent lights.
HID (Xenon)
If you want to produce at least twice as much light and brightness as a halogen, then you should go for an HID.
These are more expensive than both halogens and LEDs yet produce an incredible light that lasts a lot longer than halogens.
High-end manufacturers add HID headlights to their bikes because they're legal.
You won't find them on Harley Davidson bikes, but they're still worth considering.
LED
Many countries around the world consider LEDs to be too dangerous, but not the US.
LEDs can be illegal in some instances, though. For example, when the lights are not white and are still too bright.
This could easily come off as a distraction to other drivers, which is why it is prohibited.
Harley Davidson adds the perfect brightness and color to their headlights, so your bike is entirely legal.
This comes with the extra advantages of LEDs – high brightness, little power consumption, and fantastic durability.
Replacement Chart of Harley Headlight Bulb
Harley Davidson Headlight Bulb Upgrade DIY
So, are you looking to set up your Harley Davidson with a new headlight? Here's what you'll need to consider:
Tools Needed
You won't need anything apart from a Phillips screwdriver. Some people like to use gloves to avoid handling the lights barehanded.
Approximate Cost
Practically nothing apart from the price of the headlight itself. Luckily, you can find pretty affordable options out there with either LED or Halogen bulbs.
How Much Time Does it Take?
The process typically takes no more than 10-20 minutes, especially if you already have some experience.
Best Harley Davidson Headlight Bulbs to Consider
TRUCKMALL 7-inch Headlight
You can mount this LED headlight bulb for Harley Davidson on any model and get superb brightness.
It all goes into the 4,000 lumens of total capacity, adding up to what the typical LED (less than 2,000 lumens) can offer.
You can also use the low-beam 2,000 lumens if necessary – to avoid harming the visibility of other people.
You still get a high-quality polycarbonate construction that prevents any damage from scratches, vibrations, or shocks.
And with the IP67 waterproof build, you can be worry-free in any situation.
At a temperature of 6000K, this light is as white as they come without losing the perfect warmth to illuminate everything.
Regardless of how dark it is where you're driving, this light will make it clear.
Highlighted Features:
Comes with connectors and base
High-end build avoids sudden breakage
Avoids glaring other drivers
Offers two brightness modes
Z-OFFROAD 7-inch LED Headlight
Give your Harley a boost in light performance with the Z-OFFROAD replacement headlight bulb for Harley Davidson.
It is perfect for the Road King, Softail, Street Glide, and many others, including road and street models.
Regardless of where you install this headlight, you get high-end steadiness and brightness.
At 3,000 lumens using 36 watts or 6,500 lumens using 108 watts – this headlight never disappoints.
You get enough power to light up entire roads without drawbacks.
To make it even better, you can enjoy a high-quality construction, boasting a shockproof and waterproof build (IP68).
The addition of an advanced cooling system with the die-cast aluminum housing adds up to its durability.
You can expect over 50,000 hours of use from this excellent piece.
And to finish its already fantastic design, the installation is a no-brainer.
An easy-plug system requires as little as 20 minutes or less (enough to save you a significant amount of effort).
Highlighted Features:
Withstands almost any situation
Stays cool for a long time to reduce wear
Requires little to no effort to install
Surprisingly bright and intense light
Harley Davidson Headlight Bulb Replacement Process
You don't have to wait for a mechanic to arrive at your home.
Here, we will teach you how to replace that Harley Davidson headlight in just a few minutes.
Follow these steps:
01. Choose the Bulb
First and foremost, make sure you're using a quality Harley Davidson headlight bulb replacement.
But more importantly, that it fits on your bike.
Most Harley Davidson bikes use 7-inch headlights, but you may find some models that don't.
Be sure you don't get the wrong one and end up with an unusable headlight.
Apart from that, consider everything from its brightness and quality of construction to the overall durability.
As long as it matches all your demands and provides a quality experience, then you should be ready to install it.
02. Remove the Housing
With the bulb ready, you're now free to remove the bike's housing.
This is everything around the headlight, including the trim ring and the screws that hold the headlight.
Most Harley Davidson bikes have a similar configuration, so this shouldn't be much of a problem either way.
As you're doing this, make sure not to hit the headlight with the screwdriver.
Be careful not to cause unnecessary damage to the bike's finish either.
Before releasing the last screw and freeing the old bulb, you should grab the headlight softly.
This is to prevent it from falling and breaking.
03. Get the Headlight Out
You're now ready to get the headlight out of the housing. This should not be much of a problem.
After releasing the screws, you just need to unplug the headlight. Most of the time, a few turns will release it.
Some Harleys have an extra screw on the tab. This keeps the bulb in place, so you'll need to get it out as well.
And finally, remove the bulb. Be aware old bulbs tend to be filthy, greasy, or sometimes just dusty.
To avoid any of this getting to your hands, we recommend grabbing the old headlight with gloves or a fabric towel.
04. Connect the New Bulb and Test
Now you can put the new bulb in place. Tighten completely to make sure it doesn't fall off.
It's worth checking the security tabs and other safety measures. Screw everything in after placing the bulb in place.
Before you put everything else back in place, you should test the light.
If the light is defective or wrongly connected, you can take it out and reattach it without disassembling a thing.
If you checked the light and it seems to be working correctly, then proceed.
05. Reattach Everything
Once the bulb is set up and working, you can take everything else back into place.
This will include the rubber housing, the trim ring, and the wiring.
As you're reattaching stuff, be well-aware of where you're placing the screwdriver.
Don't scratch or damage your bike's housing by mistake.
Attach the trim ring tightly to make sure it doesn't fall off later on.
You've successfully installed a new headlight bulb on your Harley.
Need more detailed help?
How to Replace Headlight Bulbs Professionally
Cost
Depending on what kind of mechanic you ask, this could cost you anywhere from $10 up to $75.
Given it is a quick job for an experienced mechanic, they shouldn't charge you too much either. This is your time to barter if you feel like it.
Time
The process shouldn't take more than 20 minutes. An experienced mechanic may take 10 minutes or less.
Benefits
Installing headlights with a professional saves you effort and time. And if you can find it at a low price, it is an even better business for you.
Pros & Cons of Using LED Headlight
As soon as you start using the LED headlight on your bike, you'll notice a wide array of benefits. These include:
Outstanding Brightness
Even though original Harley Davidson headlights are often LEDs themselves, they don't compare with aftermarket models.
An aftermarket LED is likely to be a lot brighter and intense, giving you extra visibility when it's dark.
Long-Lasting Battery
You won't have to replace your bike's battery any time soon.
LEDs use such a low amount of energy that you will barely notice your battery draining with one of these.
LEDs are much more efficient than halogens and HID lights. Plus, a suitable model can be more efficient than stock headlights.
Superior Durability
You won't have to worry about sudden burnouts or breakage.
LED lights tend to last a long time in comparison to other bulb types.
And sure enough, they're also designed to withstand water, shocks, and even dust much more effectively than other bulbs – so you get greater resilience.
Frequently Asked Questions of Led Replacement Bulbs For Harley Davidson
How long do headlight bulbs for Harley Davidson last?
It depends on the exact model you get. But you can expect at least 10,000 hours of lifespan from a LED light.
In comparison, tungsten-halogen lights last barely 1,000 hours, while HID and Xenox lights rarely go over 5,000 hours.
That's at least twice as much lifespan from a LED as any of its competitors.
By the way, many other factors, such as turning it on and off consistently may reduce its lifespan.
And lastly, external factors like extreme heat or cold may also decrease how much it lasts.
Are LED bulbs compatible with a Harley Davidson?
Yes. Harley Davidson bikes nowadays all feature LED lights in one way or another. This is primarily true for US models.
Other countries where LEDs are illegal for commuting vehicles may use different bulbs, like HID or halogen.
Either way, you may be able to install LEDs almost directly and start using them almost right away without issues.
Can you install a LED bulb in a halogen headlight fitting?
Yes. LED lights can handle the same type of connector without a single problem.
Plus, they may provide the same temperature and color as halogens, so you'll be doing yourself a favor installing one.
Verdict
Don't let a professional take your money away. You can install that Harley Davidson headlight bulb upgrade without spending a dime.
Follow our guide above, and you'll make that possible. It's not much work either, so you'll be saving money while learning a practical skill.
So, what are you waiting for?