You need to invest in the Harley Davidson throttle lock if you ride over long distances.
Every bike owner must commit to adding devices and components that bring about a relaxing and enjoyable ride experience at all times.
A throttle lock plays a significant role in preventing hand fatigue, aches, or cramps that may occur when you hold the throttle over a long period.
As you read along, we will discuss what exactly the throttle lock does, how it works, installation tips and some of the best throttle locks on the market that you can purchase and install on your motorcycle.
What is a Throttle Lock?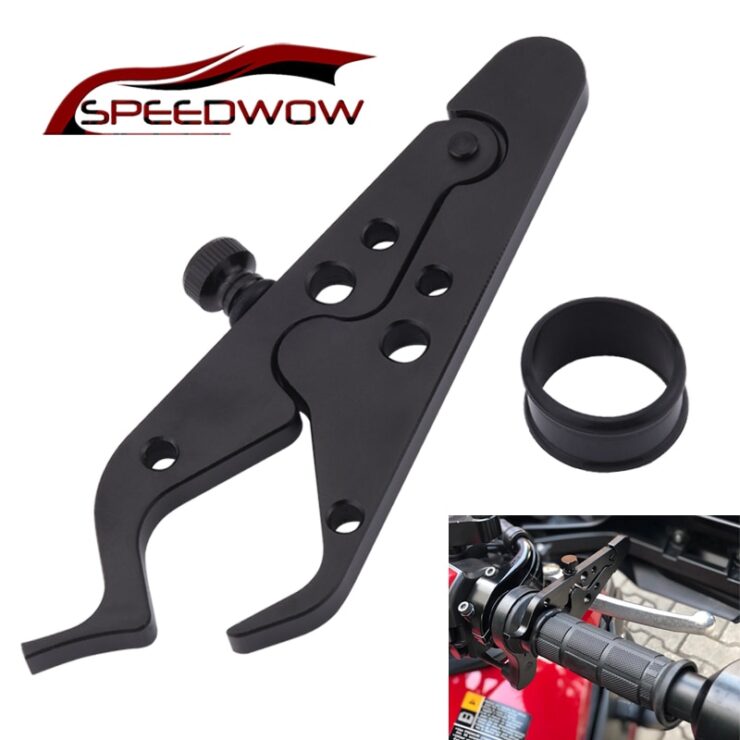 A throttle lock is a device that is installed at a particular point or location on your throttle.
Its main function is to allow you to adjust/control the throttle easily and smoother when you need to regulate your speed. 
How does it Work?
Contrary to the name, the throttle lock doesn't at any point lock your throttle. Instead, it engages the throttle into a particular position with the aid of friction and pressure. 
Harley Davidson Throttle Lock
How to install guide
Select a throttle lock for your bike
There are various types and designs of throttle locks on the market. They all have their distinguishing attributes and peculiarities.
So, make sure you have a clear understanding and idea of what you want your lock to do for you, and pick a design that has all the functionalities and features you desire.
Overall, you need a throttle lock that is compatible with your bike.
Choose the installation point
Make sure your bike is parked in an area or location with adequate space. Ensure the installation point is not sloppy. It must be well leveled to support your bike.
Turn off the engine
Make sure the engine is not running while trying to mount the throttle lock on your bike.
Choose the desired installation point or position
Select a point on the throttle where you will like to have the lock installed or mounted. Choose a position that is easily accessible.
Follow the manufacturer's direction
Although the throttle locks perform the same function, they come in different designs and configurations.
Hence, the installation accessories/components and the mounting method may vary from one design to another.
While some throttle locks are designed as direct-fit, others may need a bit of modification (drilling and detachment) to successfully install or fit them on your bike.
Hence, it is important to follow the installation instructions and steps for easy and successful mounting.
Test ride
Once you have successfully installed the throttle lock, climb on your bike and hit the road.
Use this period to detect if you need to make further adjustments or changes to achieve your desired needs or expectations.
Tools
Usually, throttle lock doesn't need any special tools before you can install them on your bike.
All the accessories and installation components come in the kit.
However, you may need a drilling machine and screwdriver for a throttle lock that requires drilling and disassembling of the throttle control housing before it can be mounted successfully. 
Cost
There are various designs of throttle locks on the market. The price of each product varies from one another based on the features that come with them.
For instance, a throttle lock made from premium material and equipped with cruise control is more expensive than regular locks.
On average, a throttle lock costs between $10 and $150. If you are installing a quality design, it may cost about $250, including labor.
Time
With the right skills and experience, you can successfully mount a throttle lock on your bike between 5 and 10 minutes.
The whole process doesn't take time, regardless of the type of throttle lock you choose to go for.
Best Harley Throttle Lock Reviews
01. Kuryakyn 6212
Highlighted Features
Support dual cable throttle control
Tube adhesive
1 throttle side grip & clutch side grip each
Chrome color
Made from top-quality aluminum
Removable end caps
The handlebar grips are designed with quality materials that offer impressive performance and appearance.
If you are looking for reliable and worthy hand grips to replace your stock design, here is an excellent choice you may consider.
They offer easier and smooth handling, ensure your hands hold firmly on the handlebars, and guarantees easy and fast acceleration.
The installation is easy, and the package comes with relevant components for guaranteed support as you mount these grips on your bike.
One of the notable inclusion is the glue. Hence, you won't have to spend extra by buying it separately.
The throttle boss supports a smooth and relaxing ride experience by relieving hand stress and fatigue during long rides.
Pros
Durable and nicely built handlebar grips
Guarantees smooth handling and acceleration
The installation is easy, and the glue holds the grips securely
The grips reduce handlebar vibration and provide superb comfort during long rides
Cons
02. Go Cruise GC-A1BK
Highlighted Features
Aluminum construction
Comes with a silicone ring
Universal design
Vibration sensitive
Black in color
Installation manual
This design offers you a well-deserved break off the handlebars of your motorcycle so that you can flex your hands when riding over a long distance.
Go Cruise GC-A1BK is an excellent product choice if you are looking for a reliable and top-performance throttle lock without breaking the bank. It is easy to install, and it works as described.
When installed as directed by the manufacturer, it keeps the throttle in place. Also, it comes with a silicone ring to protect the handle, and the tension can be easily adjusted.
Overall, this product is exceptionally functional, affordable, and durable.
Pros
The installation is effortless and doesn't require any special tools or skills
Easy to install and operate
Provides relief over long distances
Exceptional performance at a pocket-friendly price
Cons
Requires constant adjustment on bumpy roads
03. ATLAS Throttle Lock
Highlighted Features
Cruise control
Installation guide
Available in top or bottom control design
Made of stainless steel
Bolt-on installation
Supports a wide range of motorcycle
You can easily regulate this device using your thumb, and it is never far from reach. One significant feature that the ATLAS Throttle Lock possesses is that users can engage or disengage it without affecting the speed of their motorcycle.
This throttle lock comes in two different designs, allowing you to make the most suitable selection for your handlebars.
The user guide contains relevant information that can assist you in choosing the correct design for your motorcycle's handlebar.
If you are looking for a reliable device that gives you complete control over speed, allowing you to make relevant speed adjustments that fit your style and road conditions. Here is an excellent choice for you.
Pros
Allows you to make the necessary adjustment to speed with ease
Provides complete throttle control at all time
Installation is smooth and effortless. No modification is required.
Operation/control is initiated using your thumb, and the lock can be easily reached
Cons
04. BigPantha
Highlighted Features
Universal operation
Ant-theft grip locks
Custom designed holster
Installation/application guide
Rubber pads included
The PigPantha lock is designed or built to perform numerous lock functions. It can be used to secure/lock your motorcycle's grip, the brake, and it can even function as a throttle lock.
Although it is commonly used as an anti-theft device in most applications, it can also be installed or fitted on the throttle to regulate speed and enhance the ride experience during every long ride.
To eliminate unnecessary issues and stress during installation, ensure you consult the installation manual.
Most especially, to guide you through how to mount this device on your bike for your desired operation.
This product has a long history of reliability, thanks to its excellent build quality and outstanding performance.
Pros
Smooth and fast installation.
Easy to operate
Reliable, secure, and affordable
Rugged, well made, and elegant
Cons
Installation is a bit complex without the installation manual
05. 7CP06 BrakeAway
Highlighted Features
Compatible with Harley Davidson's motorcycles
Cruise control
Stainless steel material
Bolt-on installation
Installation manual
7CP06 BrakeAway comes in a unique design and shape that supports fast and easy operation/action while engaging or disengaging the throttle lock on the road.
Its application doesn't impair the bike's operation.
This throttle lock is known for the remarkable comfort it provides while riding on the highway or over a long distance.
When the lock is engaged, it gives you the freedom to flex your hand muscles by releasing your grip on the throttle without affecting your speed.
For successful and easy installation, make sure you read through the mounting manual that comes with the kit.
Pros
Performs greatly at relieving hand/wrist strain
Fits as described
Reliable for long ride irrespective of the road condition
Cons
06. TARAZON throttle lock
Highlighted Features
Aluminum material
Universal application
Great fit for Harley Davidson
Silicone grip band
Mounting guide
This is one of the easy to install and operate throttle locks on the market. It can be wrapped around your throttle.
It doesn't need any special adjustment or modification to fit into your desired position.
If you are looking for a throttle lock that guarantees excellent comfort during long rides, the TARAZON throttle lock is a great choice.
It allows you to relax your hand on the throttle without the need for tension.
You can easily engage and disengage the throttle lock with a simple push on the control. One notable inclusion in the kit is the silicone grip band.
This supports a smoother operation and as well protects the throttle grip once clamped on the bike.
Pros
Compatible with a range of motorcycles
Hold your throttle in place
Eases the stress and discomfort that may occur during long rides
Cons
No cruise control feature
07. Cruise-Mate Chrome throttle lock
Highlighted Features
Stainless steel
Chrome color
Mounting instructions
Cruise control
Mounting components included
Excellent replacement for stock
Cruise-Mate Chrome throttle lock is designed for a range of motorcycle brands/models.
This throttle lock uses a lever to keep your throttle in position. The internal and external components, including the installation brackets, are built from quality materials for reliable and long-lasting performance.
This throttle lock is easy to operate. You can engage or release the lock with the use of your thumb for convenient and fast action.
The mounting requires some drillings and other related detachments. However, you can easily conduct the installation by following the mounting instructions as described in the installation manual.
Ensure you confirm compatibility with your bike before you make a purchase.
Pros
It can be installed on motorcycles equipped with electronic throttle
Easier and safer to operate
Reliable and affordable
Guarantees remarkable performance at a lower cost compared to other designs
Cons
Requires drilling. You will need to disassemble the throttle control housing
FAQ's Harley Davidson Throttle Lock
What does the throttle lock do?
The primary function of the throttle lock on your bike is to lock/secure the throttle for maximum comfort during every ride.
Operating your bike without the throttle lock places excess pressure on your hand during long rides since you will have to grasp the throttle to regulate the speed all through the ride.
What do I need to know before purchasing a throttle lock?
Each lock has its unique and differentiating features. Most especially when it comes to installation and operation.
Make sure you understand how each lock operates and pick a brand/model of throttle lock that fits your needs.
Also, go through the product's description to check if your product choice is compatible with your motorcycle.
How long does a throttle lock last?
The best throttle locks are built to last for years. When choosing a throttle lock to buy/install on your bike, make sure you go for a design that is made from quality stainless steel or aluminum. These locks are built to last.
What makes a good throttle lock?
Some impressive features differentiate or distinguish a top throttle lock from the other designs you will find around.
The best throttle lock must offer the appropriate amount of resistance. It should be easy to operate and guarantee a smooth riding experience.
The installation should be effortless. Also, it must mount firmly to your motorcycle.
When choosing a throttle lock, make sure you consider how easy such a product can be engaged and disengaged without mounting excess pressure on your hand.
When can I use or activate the throttle lock?
Throttle locks are designed to be used on open roads, especially during long rides. Avoid using the throttle lock when you are in traffic.
This eliminates any form of inconvenience that may occur due to the constant adjustments required at this point.
Verdict
So far, we have provided relevant information about the Harley Davidson throttle lock and why you need to add this incredible component to your bike.
You can cut down the stress that comes with researching the best product to buy by checking some of the best designs/models of throttle locks highlighted in this guide if you are picking up a throttle lock anytime soon.