Ape hangers, also called monkey bars, significantly improve road glide performance by giving riders optimal control.
What truly stands out about this type of handlebar is its design, which keeps the rider's arms stretched slightly above shoulder level.
Due to their unique design, the best ape hangers for road glide quickly grab everyone's attention.
They're good-looking, practical, and a bit intimidating, all of which create a worth-having handlebar to cruise the roads with style.
This article covers everything there's to know about ape hangers. So, let's begin by clearing out two of the most critical questions regarding this matter.
What is The Best Ape Hanger For Road Glide?
Paul Yaffe's Bagger Nation OEMB125-14 Handlebar takes the title.
After many tests and many more hours on the road, this ape hanger is the one that delivered the most efficient performance by making the experience of riding the road glide remarkably smooth.
This ape hanger satisfyingly improves comfort by offering different handlebar sizes.
Regardless of their height, the bars keep the rider's arms in a pleasant position to look fantastic while also feeling great. Plus, when it comes to looks, the different finishes available look amazing.
Why is Paul Yaffe's The Best Brand of Ape Hangers For Road Glide?
This brand truly brings the most out of the road glide, from high-quality bars constructed with durable materials to a highly appealing design.
But that's not all. The manufacturer also makes versatile products, meaning that the ape hangers fit new and old road glide models and other Harley-Davidson choppers.
Other options like the FMB Mercenary Ape Hanger came close, but the Paul Yaffe's Bagger Nation ultimately came on top.
This brand has created high-quality parts for road glide models for many years now.
There's so much more to learn about the ape hangers. Let's get into it by taking a look at the top 10 picks to consider.
Comparison Table of Best Ape Hangers For Road Glide
Top 10 Best Ape Hangers For Road Glide Reviews
Finding the ideal ape hanger is a tough challenge — there are just too many! Different sizes and shapes were also common concerns.
Still, keeping the essential features in mind quickly narrowed down the list to ten handlebars, ditching ape hangers that didn't meet basic standards in exchange for only a few that offered satisfying improvements to the road glide.
Let's look at what these ape hangers are and everything they have to offer for road glide owners.
01. Paul Yaffe's Bagger Nation OEMB125-14 B – Best Overall Ape Hanger For Road Glide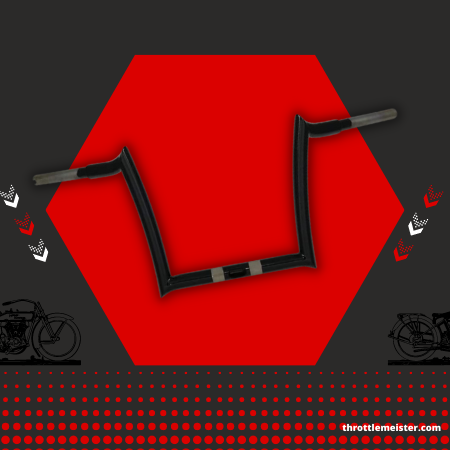 Highlighted Features
Hand-crafted build
Pre-drilled bars
Different sizes
Two finishes available
Featuring a hand-crafted build that makes it compatible with multiple choppers — including road glides and Harley-Davidson models — this ape bar comes an excellent choice.
It's available in sizes from 10 to 16 inches for more variety. Plus, the two finishes offered, black and chrome, bring style to choppers.
While many other ape hangers are tricky to install, this one makes the process easier.
The 1.25-inch diameter bars come already drilled, which guarantees the internal wiring and mounting goes as smoothly as possible.
After installing it, the handlebar significantly improves the experience on the road.
Both hands remain at the perfect height just above the shoulder, giving total control of the road glide. Also, the bars look cool, and so will you, so there's that too.
"The handlebar is perfect for road glides, but not for FLH models. Not necessarily a dealbreaker in this case since the point of the article is road glides ape hangers, but it is still good to know the limitations of the product."
Pros
Easy to mount
Durable, resistant & comfortable
Provides optimal control of the vehicle
Lightweight & good-looking
Cons
Not suitable for FLH models
02. FMB Mercenary Bars Ape Hangers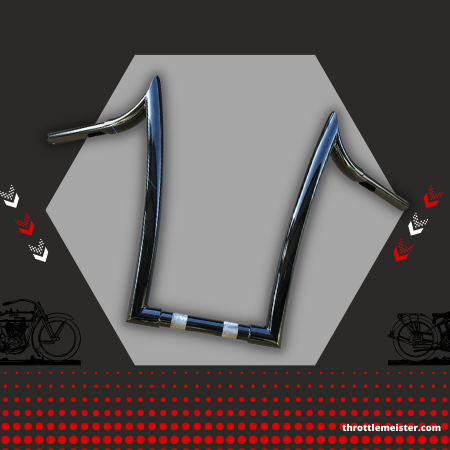 Highlighted Features
DOM Tubing
Satin, Black finishes
Wall thickness
Compatible with 2014 and older road glide models, these ape hangers are impressive. They feature a durable build, a comfortable design, and a beautiful finish that makes the road glide stand out.
Since they use a combination of DOM tubing and a powder-coated surface, expect to rock these hangers for a long time.
The structure design of the handlebar is yet another reason for its popularity.
Everything from the tubing to the welds and the wall thickness makes it one of the most comfortable out there.
Besides getting a firm grip for effective handling of the road glide, these ape hangers make it easy to maneuver the vehicle for more safety.
Esthetically, the hangers look imposing and a bit intimidating. The height to which they rise is perfect, enhancing the look and overall feeling of driving the road glide.
Additionally, your arms remain in a position that doesn't feel tiring or exhaustive, even after traveling long distances.
"For the most part, these ape hangers are flawless. However, the wiring can be a bit tricky, especially when it comes to pulling the wire through the top and bottom."
Pros
Well-constructed with durable welds
Comfortable grip for more stability
Compatible with the most popular road glides
It makes it easy to maneuver the vehicle
03. XKMT- Harley H-D Ape Hanger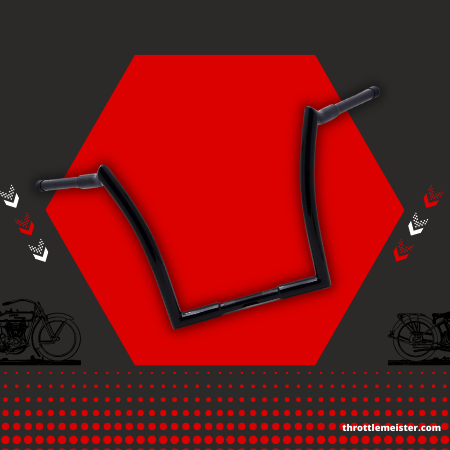 Highlighted Features
Steel construction
Bar thickness
Slotted pinhole
Different sizes
One of the first things to point out about this ape hanger is that it doesn't look as aggressive.
It enhances the vehicle's look by providing a stylish and cool appearance without looking intimidating, which is excellent for road glides.
By no means it's a small handlebar either — at 16 inches of height, it is pretty tall.
The bars feature a drilled build and durable steel materials. With 1.25-inch of thickness, 15-inch base width, and 33-inch overall width, the ape hanger is resistant, comfortable, and offers a secure grip.
While cruising the roads, the handlebars help keep the road glide stable. These benefits are particularly noticeable at corners, at which the handlebars offer smooth turns.
Another feature worth mentioning is the slotted pinhole included, which provides room for adjusting the ape hanger in a slightly forward or backward position.
Considering the handlebars are available in 12, 14, 16-inch sizes and two finishes, this XMKT product easily fits most road glide models.
"However, getting to that point isn't a hassle-free process. The installation is a bit tricky, particularly setting the wiring and pulling the cables out of the bars."
Pros
This incredible ape hanger doesn't look aggressive
Improves road glide maneuvering
The extra-comfortable grip
Adjustable positioning
Cons
Setting the wiring and pulling cables isn't easy
04. WSays Black 12-Inch Ape Hangers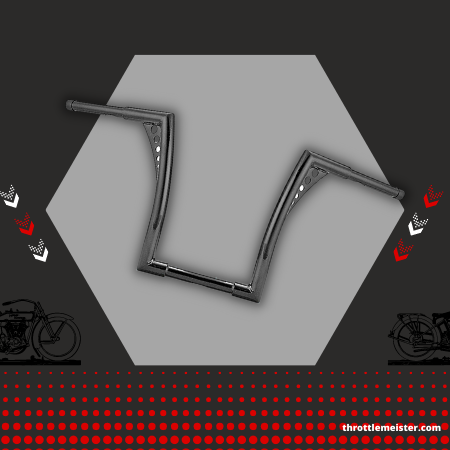 Highlighted Features
Seamless Steel Pipe
Rust-proof coating
Pre-drilled tubes
Handlebar height
Created with seamless steel pipes, this ape hanger features resistant materials and coatings to withstand the most challenging conditions.
Rust issues are out of the picture, just like any other unexpected damage that could leave permanent marks on different types of handlebars.
Overall, durability problems shouldn't be a concern while using these hangers.
The handlebar end raises up to 12 inches, which makes the ape hanger's height and width feel comfortable.
At this position, firmly gripping the handle for efficient use of the road glide is both possible and satisfying.
Suitable for road glide models from 1998 up to 2013, this handlebar comes in black and chrome finishes. Installing them is a pretty straightforward process, made easier because the tubes arrive pre-drilled.
"Despite being compatible with many Road King and Dyna Softail Sportster models, the handlebar is only suitable for Road Glides models 2013 and below."
Pros
Super easy to install
Perfect width and height for comfortable rides
Resistant bars ideal for rough weather conditions
Impressively good-looking design
Cons
Compatibility issues with newer road glide models
05. HTTMT- 16-Inch Fat Ape Hanger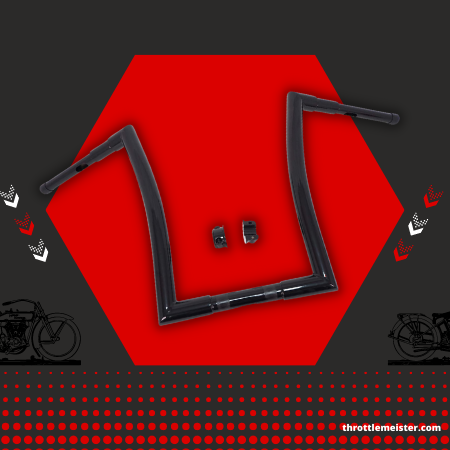 Highlighted Features
Multiple sizes available
Drilled bars
Notched ends
Anti-slippage design
At 16 inches, the height of this ape hanger is among the highest on this list. Besides looking great, the handlebar provides a brand new look to road glide models.
It doesn't feel forced or awkward to hold the handlebar either, as the 33-inch overall width is still comfortable.
The handlebar comes with a smooth interior design that creates a friendly environment to safely and quickly pull wires.
It takes considerably less time to install this component than other models that need hours of work.
Luckily, the ape hanger is also lightweight, meaning it won't become a problem even if you have to carry it around during the mounting.
In terms of performance, the handlebar does an excellent job of improving the road glide's handling and maneuvering.
The 1-inch grip area feels comfortable to hold, and the 36.75-inch of overall width keeps arms properly stretched to cruise the roads with style.
"The downside is that this ape hanger isn't compatible with 2014 and older road glide models."
Pros
High-quality build with long-lasting materials
Significantly improves handling of the road glide
It helps maintain perfect balance and stability
Hassle-free installation
Cons
Not compatible with old road glide models
06. Paul Yaffe's Bagger Nation OEMB-2015-12 Ape Hanger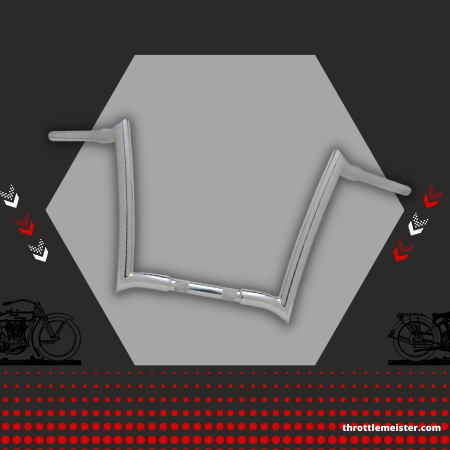 Highlighted Features
Hand-crafted build
1.25-Inch diameter bars
Durable construction
"Super Clamp" compatibility
The following ape hanger is perfect for touring models, including many of the most popular road glide models.
Available in sizes of 10 and 12 inches, this handlebar offers some variety to customize road glides. Much like the other products included here, this one also comes in black and chrome finishes.
With well-constructed bars that look fantastic, there's a lot this ape hanger can do for road glides.
For instance, the width from tip to tip helps choppers stand out above the rest, which is a perfect way to show off.
The height is also a plus, as it remains true to what an ape hanger should be by providing some attitude and personality to the road glide.
Additionally, this handlebar is compatible with the brand's one-piece riser clamp, called "Super Clamp."
Put the two parts together, and what you get in return is a stable ride with no slippage risks. Other benefits of using this ape hanger are: ease to control of the road glide, comfort, and improved handling.
"The bars come pre-drilled, but it doesn't contribute with anything to make the installation an easy task. Working the wiring is tough, which means that getting a professional to do the job is almost inevitable."
Pros
Improves handling of the road glide
It puts up smooth rides with zero risks of slippage
Secures a solid grip for a safe experience
Gorgeous finishes
Cons
Doing the wiring is tricky
07. Dominator Industries 12-Inch Meathook Ape Hangers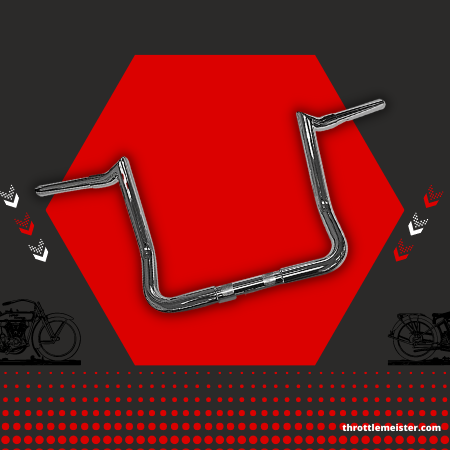 Highlighted Features
Plumbed & Notched
TIG-welded
Beveled, de-burred parts
Laser-cut parts
Here's a 12-inch ape hanger that easily fits street glides from 1996 and 2018.
Besides, it is also compatible with choppers like the Harley-Davidson Electra Glide, Classic, Ultra, and Ultra Limited models, among many others.
The bars arrive already plumbed, ideal for quick internal wiring, and notched for TBW applications.
To guarantee a smooth installation, the laser-cut and fully TIG welded valves come perfectly beveled and de-burred.
The well-constructed bars are also fantastic due to the natural, comfortable grip angles they provide.
Considering the pullback is smooth and gentle, riding a road glide using this handlebar for sure feels better than ever before.
The handlebar's total rise is 12 inches, which is one of the lowest but also one of the most comfortable as well.
No longer you'll have to struggle with potential risks that could hurt your arms, as the height of the ape hanger keeps them comfortable and secure.
"Installing this ape hanger is fairly easy, though not hassle-free. Threading the throttle and working the cables may be difficult, especially for those with less experience. Patience is key."
Pros
Superb compatibility with road glides and choppers
The premium design for outstanding looks
High-quality construction puts up with anything
Comfortable rise for an optimal riding experience
Cons
Some steps during the installation are tricky
08. Road 6 Custom 13-Inch Ape Hanger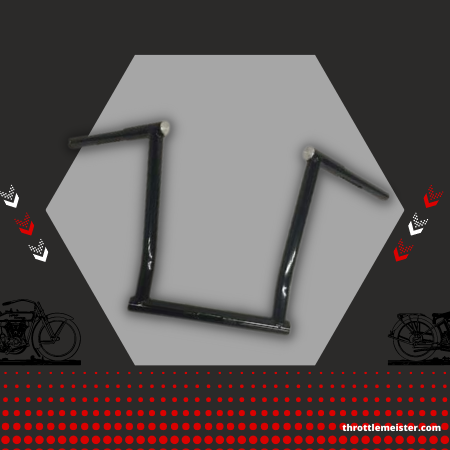 Highlighted Features
Wiring management
Lightweight
13-Inch total rise
Tutorials available
The design of the Road 6 Custom ape hangers for road glide makes them an ideal option.
Not only is the handlebar easy to install, but the wiring remains neatly organized to allow the bars to look incredible without any loose wire.
The brand shares plenty of useful information and videos for detailed guidelines, guaranteeing the installation goes smoothly.
Once mounted, the finish of the bars looks and feels fantastic. It's a good-looking handlebar that it's also satisfyingly comfortable.
While taking a ride around the block, you get a solid grip with no slips to reduce the risks of losing balance.
Unlike other ape hangers with limited compatibility, this one fits newer road glide models from 2015-2020.
On those road glides, the handlebar works well with the existing stock clamps, hand controls, and cables to provide a nice transition.
"Although the installation of this handlebar is hassle-free, less experienced users may struggle with the wiring. Looking for third-party guidelines or contacting a professional for assistance may be necessary."
Pros
Made with high-quality materials
Gorgeous black finish that looks amazing
Comfortable design for smooth rides
Perfect for 2015-2019 road glides
Cons
The wiring may not be easy to set up for inexperienced users
09. Bagger Brothers HD-HB-20-CH Ape Hanger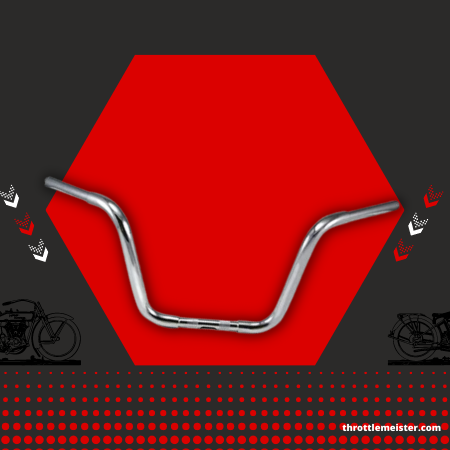 Highlighted Features
Pre-drilled build
Thick steel design
Cable management
Clamping width
Looking for an ape hanger for old and new road glide models? Then this one may be it! It perfectly fits models produced within those years, delivering safety and comfort during each ride.
The ape hanger features a solid build created with steel materials, and it is available in either a black or a chrome-plated finish — both of which look incredible.
For an easier installation, the ape hanger comes pre-drilled. In general, the process of mounting it shouldn't be a problem for anyone, as it significantly reduces the amount of time needed to get the job done.
After installing it, one of the most noticeable traits of the bars is their thickness, which effectively makes the handlebar durable and comfortable to grab.
Other features worth mentioning are the 3-1/2-inch on-center knurling and the clamping's 5.5-inch width, which comes in handy to accommodate one-piece top riser clamps.
Add to that the compatibility with 96-15 style controls and grips, and this ape hanger offers plenty of flexibility for a perfect fit.
"Even then, the manufacturer doesn't recommend fitting this product with a hydraulic clutch. Better to keep that in mind to avoid any frustration in the future."
Pros
Improves road glide balance and comfort
Provides a firm grip for more control and safety
Easy to mount
Fits 2008-2015 Harley-Davidson models
Cons
Not recommended to fit with hydraulic clutch
10. HongK- Harley H-D 14-Inch Ape Hanger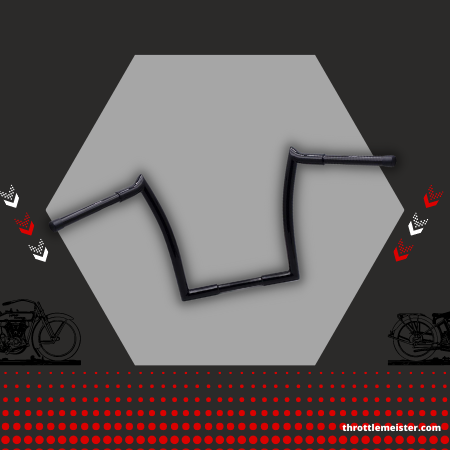 Highlighted Features
Steel bars
Anti-slip design
Slotted pinhole
Pre-drilled parts
Compatible with road glide models from 1996 and 2013, this ape hanger's 1-inch clamp area diameter guarantees an easy fit in any glide produced within those years.
The installation takes a few hours, but the process, in general, is straightforward — with proper guidelines and patience, every road glide owner should get it done without issues.
The 1.25-inch of bar thickness makes the handlebar durable, capable of putting up with regular use.
At first glimpse, the total width from tip to tip makes the handlebar look wider, but that doesn't mean it feels uncomfortable. At 33-inch of overall width, the arms remain comfortable.
This ape hanger also features an innovative design that slightly separates it from the rest.
The smooth corners feel superior, and the arched angles improve comfort and improve handling while riding the road glide. 
Overall, this HongK handlebar manages to be innovative while still retaining some of the most valuable traditional ape hangers' features.
"Before attempting to install this ape hanger, make sure to check all the tools needed twice. In some cases, you may need extra tools purchased separately."
Pros
Innovative design that looks incredible
Perfect build with smooth corners and angles
Feels comfortable
Improves handling and maneuverability
What to Consider Before Buying Best Ape Hangers For Road Glide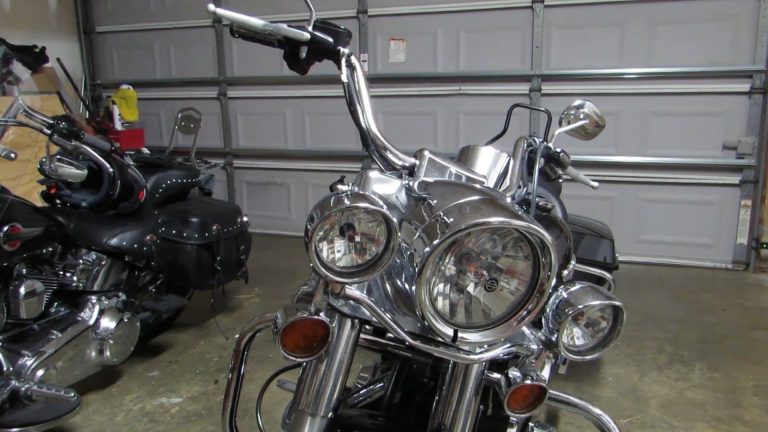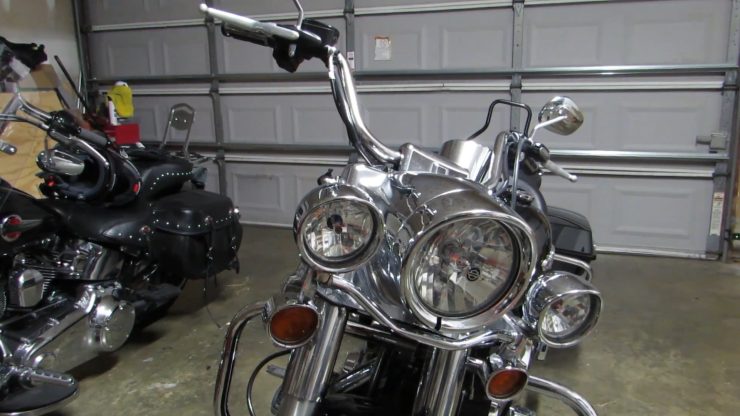 After learning more about some of the best ape hangers for road glide, a typical question to ask now is how to pick one out of the many.
Since every person has their own preferences, here's a list of the main features to consider before pulling the trigger and picking an ape hanger.
Build
Naturally, the quality of any handlebar — including the ape hanger — heavily depends on its build, which is a direct consequence of the materials used to create them.
Questions like how long the bars will last and how much they can resist should be among the biggest concerns before buying.
The ideal build material for ape hangers is either steel or iron. They can put up with regular use to last longer, and rust or corrosion are certainly no problems for these materials.
Make sure to thoroughly inspect the ape hanger's construction, as some brands may use materials that resemble steel or iron but aren't as durable as those.
Size
One clear reason to get an ape hanger is how majestic these handlebars can make the road glide look.
Of course, not all of these handlebars are the same size, as many of them are available in different heights and widths.
Knowing how tall, long, and wide an ape hanger must depend entirely on personal preferences. Nonetheless, the most common heights are 12, 16, and 18 inches.
Other alternatives are as tall as 20 or even 24 inches. They may look fantastic, but ape hangers of this size often sacrifice control.
Installation
While installing an ape hanger may seem like an easy endeavor at first, it can quickly turn into disappointment and frustration in the blink of an eye.
The whole process may be even more challenging if the bars don't have proper wiring to guarantee a smooth mounting.
Opting for pre-drilled bars is a guarantee that the installation process will be easier than it should.
Also, consider checking whether or not the manufacturer includes proper guidelines with detailed information about what to do every step of the way.
Alternatively, an ape hanger kit for road glide provides all the tools, parts, and information needed to mount the handlebar without inconveniences.
Compatibility
Few things are as frustrating as finding the perfect ape hangers to realize they're not compatible with the road glide models.
To avoid wasting precious time, check the manufacturer's information thoroughly to make sure the ape hanger will fit properly.
FAQ's Road Glide Ape Hangers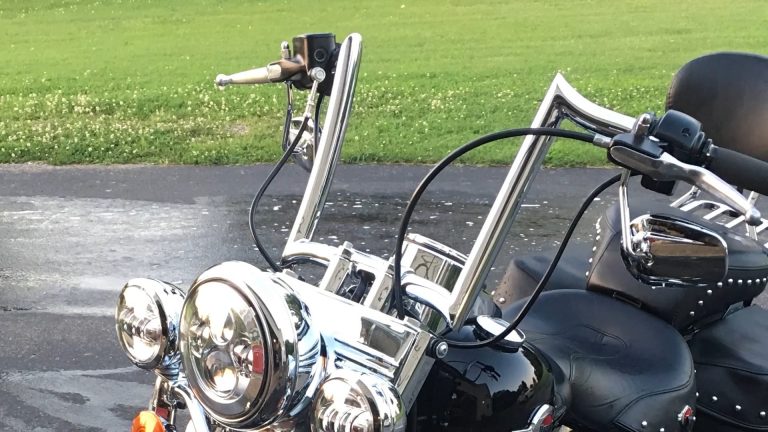 While we tried to answer every single important factor above, we still left a few things out. To make it up to you, here are some common questions with their respective answers:
Why use an ape hanger on-road glide?
Primarily found on road glide models and choppers, the ape hangers are handlebars of exaggerated height that require riders to reach up to get a grip on it. That's where the name comes from.
One of the reasons to use this handlebar is because it only looks great. It helps customize the road glide to add more attitude and personality.
Plus, the right-sized ape hangers are surprisingly comfortable — at least more than people would expect at first.
How comfortable are ape hangers?
Though ape hangers may look awkward, they still are a comfortable type of handlebar.
The most comfortable are the mini-ape hangers for road glide, mostly because they're easy to hold.
Long handlebars, while better-looking, might not be as comfortable, and riders could often struggle to get proper control of the vehicle.
Nonetheless, what truly defines how comfortable ape hangers are, is the riders. Some may prefer a specific lower rise, while others feel better with more height.
Can ape hangers hurt your arms?
As mentioned early, the standard 10 to 16-inch ape hangers are perfectly fine — they're comfortable, and the risks of hurting the arms aren't a concern that should worry riders.
However, handlebars with more rise than those might create some issues. Holding the arms too high can lead to blood draining out, which can end up in the hands feeling numb quickly.
Conclusion
This article shares the information needed to find the best ape hangers for road glides.
Now, the question is: are you ready to install one of these handlebars and dominate the roads while looking great at it? Consider all of the options, and choose wisely.
Once you see yourself riding the road glide with an ape hanger, you'll know getting this handlebar was one of the wisest decisions.
Take a look at these picks also: