Do you want to find the best air ride for Harley Touring? You're in the right place. This article will sum up some of the most praised air rides on the market.
More than that, you'll get answers to the most frequently asked questions about this topic, together with a comprehensive guide for buying air rides.
Read it thoroughly and you'll find out everything you need to know about this bike upgrade.
What is The Best Air Ride For Harley Touring?
XFMT produces some of the best air rides for Harley Touring. It is a well-known company for such kits, and most of the products they bring to the market are highly reviewed by users.
Why XFMT is The Best Brand For Harley Air Ride Touring?
They can be installed easily, they come with clear instructions, they have a long life expectancy and they have all the features you'd want from such a product.
Moreover, the price-quality ratio of their products is very convenient.
What Maintenance is Involved After Installing An Air Ride?
The maintenance process is not strict. You just need to follow the maintenance instructions that came with the kit, and you need to take some precautions when the seasons change.
You'll see that you need to adjust the psi to the riding conditions to avoid long-term damage.
Pay attention to your bike's corner clearance after installation. If there are problems, take into account seeing a specialist.
Comparison Table of Best Air Ride For Harley Touring
Best Air Ride For Harley Touring Reviews
1. Adjustable Air Ride from XFMT – Best Popular Air Ride For Harley Touring
Highlighted Features
Complete kit
Adjustable height for the air shocks
Can lower bikes up to 3 inches
It reaches 9.64 inches when collapsed and 14.17 inches when extended
Fits all Harley Touring models from 1994 to 2023
This air ride from XFMT is just right to start this list of amazing products compatible with Harley bikes. It comes with everything you'd want from an air ride.
The kit is complete and comes with clear instructions, so that makes the installation process efficient and fast.
You can adjust the height of the air shocks in any way that's fit for your bike.
When collapsed, this air ride will give you almost 10 inches, while when extended it reaches no less than almost 15 inches.
You can buy this product if your Harley Touring model was launched anywhere between 1994 to present.
A downside would be that the wires that come with the kit are not color coded, so it can be quite confusing to bring everything together.
Pros
Easy to adjust
Full kit for efficient installation
Lowers the bike visibly
Fits a wide range of bikes
Cons
Wires are not color-coded
The compressor can be slow
2. Air Ride from TCT-MOTORPARTS – Best Quality Harley Touring Air Ride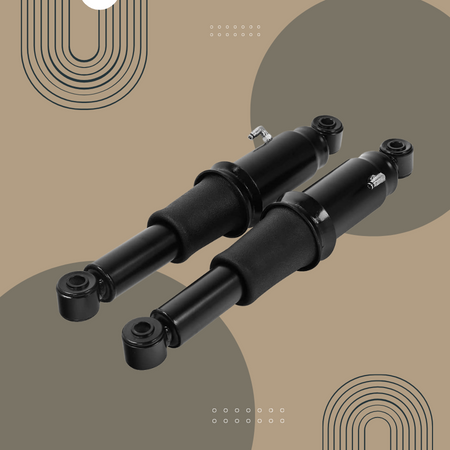 Highlighted Features
Nickel-plated fittings
High flow and high-pressure components
The manifold-style dump valve block
Complete kit with push-to-connect fittings
Fits 1994-2020 Harley Touring models
This might be the best air ride for Harley Touring you can ever buy. It is such a complex kit that it will make the installation process seem like you're playing with Lego.
Replacing your stock shocks and getting adjustable ones has never been easier.
This kit includes everything you'll need for getting the desired height for your ride.
What's even greater about this air ride is that it prevents rubbing the tire against the fender, an aspect that represents a very common problem for 2008-2009 models.
Losing air pressure won't be such a dangerous matter anymore, so you can take your ride for slammed cruises without worries.
Take into account that this whole system comes with nickel-plated brass fittings that can be installed through one single push. How convenient is that?
Pros
No rubbing involved at zero air pressure
Solves tire rubbing on 2008-2009 models
9.64 – 14.17 inches high when collapsed/extended
Fully adjustable, fully extendable shocks
Cons
No wire harness
Might lead to leaking with time
3. American Suspension Fit – Best Air Ride For Harley Touring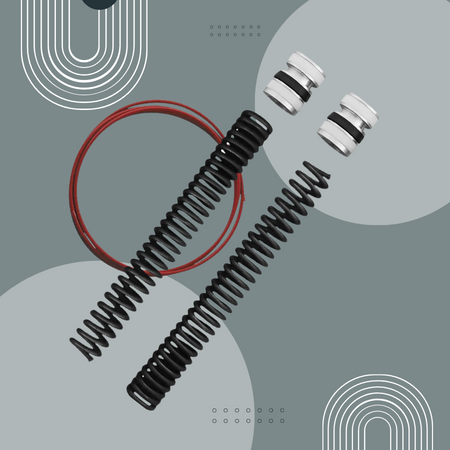 Highlighted Features
The kit that includes air pistons, bushings, and seals
Shortened inner springs for good fitting
Fork cap air fittings
Triple tree kit
Included cap
An option that combines efficiency and an affordable price very well is the air ride kit produced by American Suspension.
The company is well-known for its approach to complete air ride kits, which include all the elements you would need for a smooth installation process.
This model fits 2000-2013 Harley Davidson Bagger bikes and doesn't require additional purchases, other than air fittings.
This product also came to attention because of its reduced noise production, an aspect that many people prefer and look for. 
A downside would be that this model is not particularly flexible when it comes to bike type. It only fits a reduced range of Harleys.
Pros
Can be installed very easily
Has a short neck triple tree kit included
Straightforward instructions
Does not produce noise when in use
Cons
Doesn't fit a wide range of models
You might need to buy additional air fittings
4. Air Ride Shock Absorbers from Monroe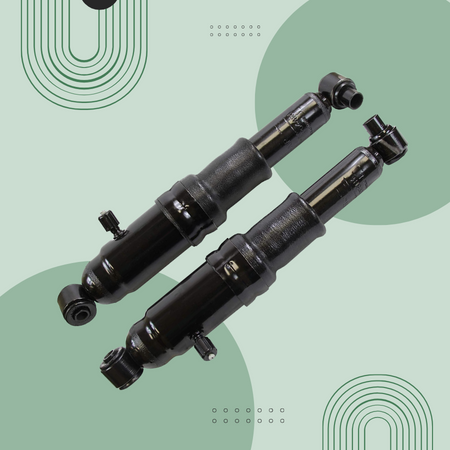 Highlighted Features
It reduces friction through special modifiers
Hardened rod for long lifespan
Displaced valving on compression/extension cycles
Smoother, comfortable ride 
Consistent, long-term performance
Monroe produced this model of air ride shock absorbers to be the best, and it seems that it lives up to the expectations.
These air shocks can be used both alone or together with another modification kit for your bike, which transforms them in a versatile product.
They come with a ½ inch piston rod, granting a seriously long lifespan for the air shocks.
Plus, because of the rod's strength, this product guarantees a very consistent ground performance, with firm rides.
A downside that many users did highlight is that the bushing size might need to be adjusted according to your bike model.
Pros
Can be used both individually or together with other kits
Fits plenty of models
Resists a lot in time thanks to the materials used
Cons
Prone to leaking
Bushing size might not fit the rest of the kit
5. Happy-Motor Air Ride Suspension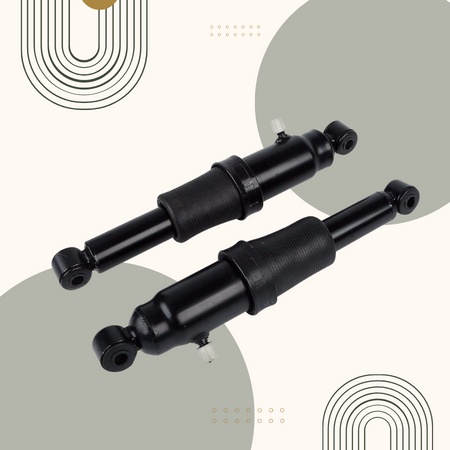 Highlighted Features
Fits a wide range of Touring models
Complex kit with all elements included
Fully collapsed dimension: 9.64 inches; Fully extended dimension: 14.17 inches
Can lower the bike with up to 3 inches
Comes with clear installation instructions
Happy-Motor are not that popular as other companies in this niche, but they managed to come up with a product that combines two very important aspects: a convenient price and efficient properties.
This kit is superior from others in the market and it does deserve the title of the best air ride for Harley Touring. Why?
Because it is one of the most complete kits you'll find on the market. It comes with everything you need for the installation process and beyond.
The collapsed/extended numbers are similar to other products in the same category: 9.64 inches and 14.17 inches respectively.
One downside of this Happy-Motor kit is that is prone to leaking, but that's not big news for air ride connoisseurs.
Pros
Complete kit that doesn't require additional purchases
The visible change in lowering/heightening the bike
Strong materials for a long lifespan
Cons
The installation process might be quite lengthy
Parts might be prone to leaking
6. BURLY Black Slammer Kit – Model B28-1203B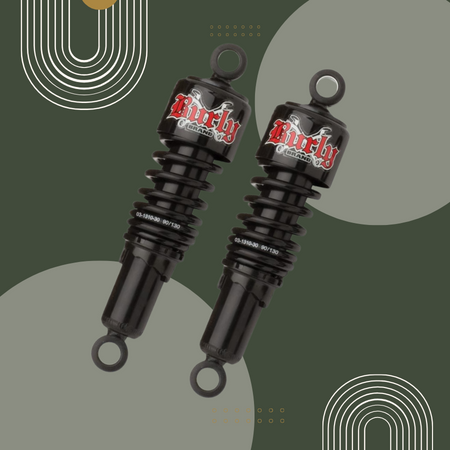 Highlighted Features
Comes with fork springs
It has very sturdy shocks
Super easy to install
Works with most Harley models
Fits the BURLY Slammer kit
This product comes super handy if you've already had your fair share of experience with the BURLY Slammer kit.
BURLY are known for producing very sturdy shocks, and this is also the case of the B28-1203B model.
The biggest benefit of this model is that it can be installed on your bike in less than one hour, with tools that you have around the house.
It comes with clear instructions and fits most Harley models, so you have nothing to worry about.
It's not a very popular product, but it's very well-reviewed and it does deserve a place in the top of the best air ride for Harley Touring.
Take into account that FLH models might require additional installation steps and other tools to get it ready.
Pros
You don't need to disassembly the forks for installation
Installation process takes under an hour
You'll only need basic tools
Cons
FLH models require fork disassembly
Firmness might be too high on bumpy roads
7. XFMT Air Ride Kit – Fit for 1994-2020 Harley Touring Electra Glide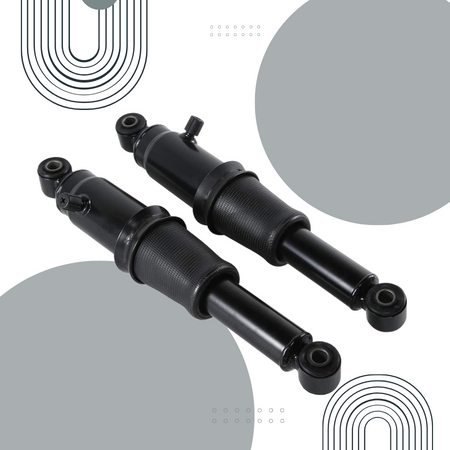 Highlighted Features
Complete kit with everything you need included
Standard raise/lowering
2-3 inch lowering when air is released
Installation process is clearly explained
Fits broad range of Harley Touring: 1994-2020
XFMT never disappoints, and this air ride kit model stands as proof for their amazing products.
The company came up with this complete kit that has everything you need to adjust your bike's height.
It is surely one of the best air ride for Harley Touring that you'll find on the market, taking into account both the very broad range of model coverage and the quality of the parts included.
The push-to-connect fittings make the installation process a breeze, not to mention that it comes with manifold-style dump valve block included.
Purchase this kit and you won't ever have problems with tire rubbing. Yet, consider that there's a risk to see some air bleed with the passage of time.
Pros
Push-to-connect fittings for quick installation
Has a manifold-style dump valve block
Is not prone to tire rubbing
Cons
It can bleed air with time
8. SLMOTO Air Ride Kit – Fits 1994-2020 Harley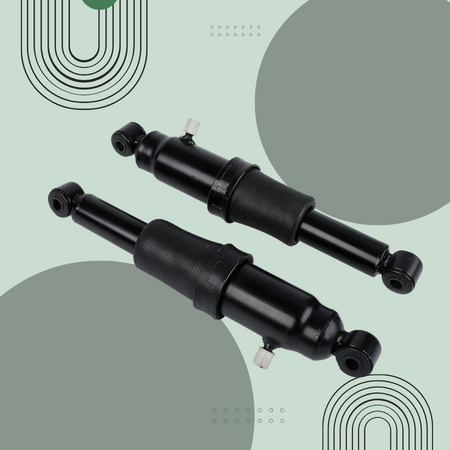 Highlighted Features
Broad range of fit for Harley bikes
Lowers bikes up to 3 inches
Standard collapsed/extended sizes: 9.64 and 14.17 inches
Nickel-plated fittings
Manifold-style dump valve included
There's nothing very special about this air ride kit from SLMOTO, but there's nothing wrong with it either.
It comes with the exact same set of functions and features you'd see in products from other brands.
One difference would be the price-quality ratio, so you might want to consider that when picking the best air ride for Harley Touring.
When it comes to downsides, you should consider that the company advises its customers not to worry if the product comes with bits of paint loss.
This happens because of how the materials are handled during the treatment process. If this is a downside for you, you might want to pick another brand. 
Pros
Zero air pressure and no tire rubbing
Very easy installation with instructions included
Fully adjustable height
Cons
Might come with paint loss from material treating and delivery
Earlier models might still see some tire rubbing in certain conditions
9. Strutmasters Air Ride Suspension Kit – A simple, yet effective solution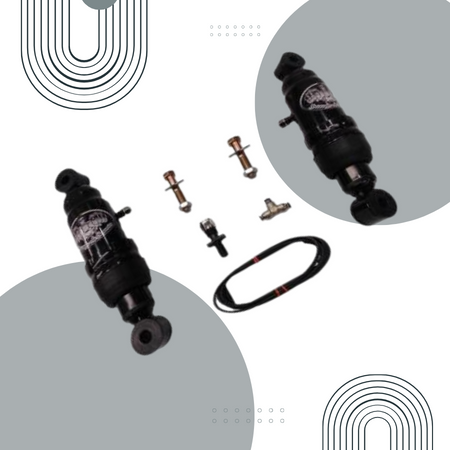 Highlighted Features
Custom shocks from Strustmasters
Requires little to no modifications to your bike
Premium quality parts with a long lifespan
High-density poly bushings included
Fits most Harley models
Strutmasters brings forth a very simple kit that does the job very well. It's not a complex kit, as it includes only what's essential for this bike modification.
You won't have to disassemble or make a lot of changes to your bike to have this air ride installed, which is convenient for those who want quick results for affordable prices.
The materials are high-quality ones, ensuring a long lifespan for this model.
Overall, it's a nice product that we all expect from Strustmasters, so we have no reason not to include it in the best air ride for Harley Touring top. 
Pros
Comes with patented Strustmasters technology
Doesn't involve making many changes to your bike
The materials are high-quality ones
Cons
The installation process might be tricky – instructions are not clear
10. The Kemimoto Store Adjustable Air Ride Suspension Kit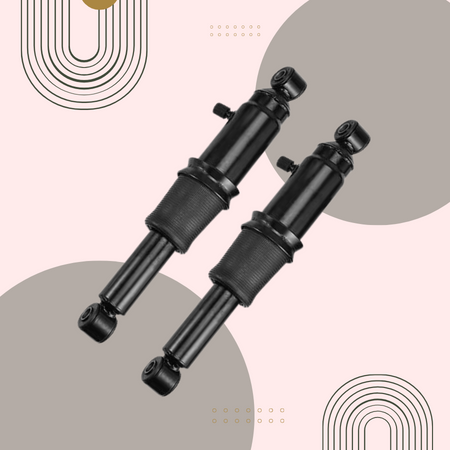 Highlighted Features
Fits all Touring models
Can lower your bike with up to 3 inches
The kit includes everything you need for a quick install
Nickel-plated brass fittings
Manifold-style dump valve included
With Kemimoto Store's product, you won't have to worry about your bike not being a good match for this air ride kit.
It fits all Harley Touring models from 1994 to present, so that's already off your table.
All you have to do is make sure that you install it correctly, and it is not a problem considering that this kit comes with everything included, plus push-to-connect fittings.
It's just like building Lego – less than an hour and you'll have your bike lowered or heightened just as you prefer.
A downside would be that you need to figure out the wiring yourself, as it doesn't come with instructions for that.
Pros
Broad fit range for Touring models
Completely adjustable
Push-to-connect system for the installation
Cons
No instructions for the wiring system
The compressor might not fit on some models
Buying Considerations Best Air Ride For Harley Touring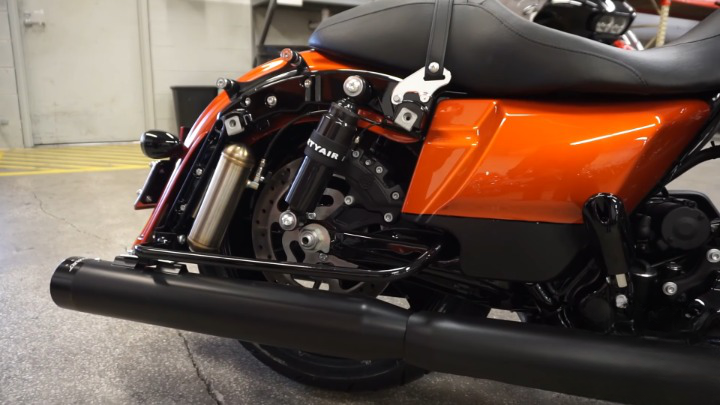 If you already decided to add an air ride to your Harley Touring, you probably need to get informed about the various aspects that can influence its performance in the long run.
This is exactly what we want to present, together with the benefits that this air ride will bring to your table.
Of course, we wouldn't leave the risks aside either, considering that you need to know what to expect from this upgrade. Here's what you should know about air rides:
What are the benefits of an air ride for Harley Touring?
Air rides come with a series of benefits when installed correctly:
Better handling of the bike
As mentioned before, this is truly dependent on the way you installed your air ride. As much as it can be a huge benefit, it can be a dangerous downside.
If you installed your air ride properly, you should instantly see a better handling of the bike on the streets. If you notice the mirrored effect, it is caused by improper installation.
Looks
Of course, we can't skip looks out of the series of benefits that an air ride brings to your Harley.
Improved looks are the most common reason why people choose air rides, leaving aside the efficiency benefits it can add to the bike.
A Harley bike with an air ride kit will look super awesome, considering that the user can raise and lower the bike as preferred. Moreover, there's zero compromise in terms of the bike's performance.
Passenger comfort
Another benefit that not many know about is represented by improved passenger comfort.
As a solo bike driver, you won't feel this aspect much, but if you adjust psi for two passengers, you'll definitely feel a difference.
Better firmness
You'll also notice a much better firmness as you drive your bike with an air ride on. What's even greater about this is that it's fully adjustable.
The level of firmness for your suspension can be adapted to each specific situation you are going through.
Whether you want the suspension soft for a smooth ride or a firm suspension for a sport-related context, an air ride will suit anything you desire.
How can you select the proper air ride for your Harley Touring?
Choosing the proper air ride is in strict connection with your bike's model. Depending on your Harley, you can find various air rides that fit different sets of needs.
Think well about what you're buying it for. They mostly all do the same, but you get different kits with different lifespans and various components.
Inform yourself about the kit you want to buy beforehand and check the requirements for your personal bike.
That's all you need to do before purchasing. The rest is all related to how you get it installed and how you're riding your bike.
Risks involved in adding an air ride
Of course, you need to also consider the risks:
Cost
It may cost a lot. Some kits are affordable, but some might make you spend quite the amount on this upgrade.
You need to consider whether you're ready for this expense or not. It's best to research the market and see what option is suitable for you in terms of both price and quality offered.
Vulnerability to air leaks
After you install an air ride, there's a higher possibility that you'll encounter an air leak in your suspension.
It doesn't always happen, but you need to take this into account because the fixing process may be pretty daunting.
Keep in mind that most of these risks are highly dependent on how correctly the installation process was done.
Cornering clearance
The same goes for cornering clearance. If parts weren't mounted properly or you didn't respect all the steps in the installation process, you might notice that your bike no longer has the stability it used to.
Moisture damage
The air ride can cause parts to leak which might lead to moisture damage in the future – yet another costly reparation to deal with.
Air fitting failure
This is almost 99% of the time caused by faulty installation, but it's good to take into account that air fitting failure can be a result of adding an air ride to your bike.
FAQ's Harley Air Ride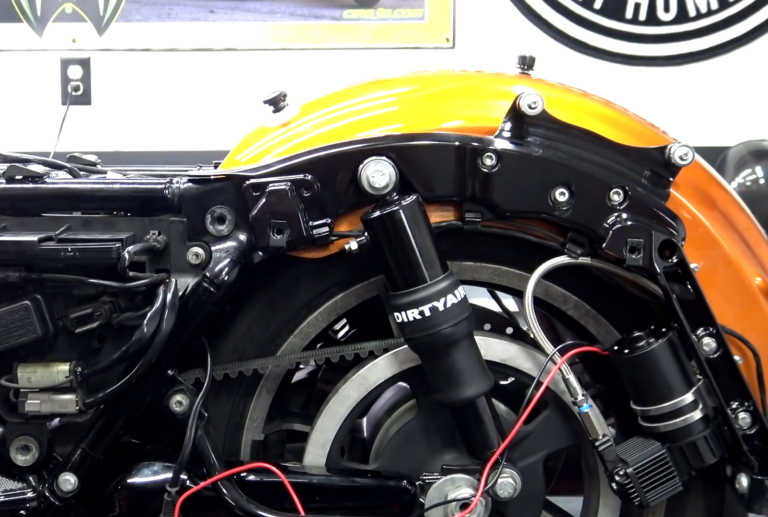 How do you install an air ride on a Harley?
First of all, double-check if the air ride kit you bought fits the bike you own. Also, keep in mind that some kits might require additional purchases for the installation process.
Always read the description of the kit and its reviews to make sure that the kit includes everything you'd need from the very start.
Second of all, consider that installing the components wrongly or adding aftermarket components that don't fit your bike might affect cornering clearance. This could lead to loss of vehicle control.
To install the air ride, check the service manual and read the instructions carefully.
Remove the seat accordingly, disconnect your bike's battery, raise the rear wheel and remove the saddlebags.
After that, fasten the air pump and release the air pressure. Follow the steps in the instructions for fitting and mounting the air ride. Fasten the new shocks and check the bolts carefully.
Get back to installing the saddlebags and reconnect the battery cables.
Are air rides reliable?
Air rides are reliable in all senses, as long as they are installed and used correctly. There is no risk involved when all steps are respected.
Like any modification addressed to a vehicle, the user must put plenty of attention and research into the installation process.
This is why it's important to get the bike checked by a specialist immediately after the installation. This checkup will confirm the air ride's reliability and you'd know long to expect it to last.
Can an air ride be used during all seasons?
Yes. There's no limitation when it comes to using the air ride in specific seasons of the year. They work exactly the same both during summer and during winter.
All you have to do is adjust the psi according to your travelling conditions. Keep in mind that there are specific preventative maintenance measures that you need to apply whenever the season changes.
These can differ based on the riding conditions, for instance the number of passengers or the luggage carried.  
How much does an air ride for Harley cost?
There are some aspects you need to consider regarding the cost of an air ride for Harley Touring. First of all, it depends on what type of air ride you want to buy.
The cost of air rides may vary depending on their features. Complex air ride kits are more expensive than simpler ones that don't include all parts you'd need for installation.
Another aspect is represented by where you're buying it from. One of the safest sources is Amazon, but the air ride will surely be more expensive if you buy it directly from an auto shop.
Normally, the cost of an air ride can range anywhere between $150 to $1000 or even more.
Do I need to buy pressure gauges separately?
Some kits will force you to buy parts separately. You'll need to check what the kit contains and verify whether your bike requires separate parts for the installation of an air ride.
Sometimes you do need to buy pressure gauges separately, but it all depends on the type of air ride you decide to buy for your Harley Touring.
How much air should be left in the rear shocks?
After you've followed all the steps until the pressure-relief one, you need to check the air suspension pressure. For an air ride, you should add around 3 to 5 psi in adjusting the air suspension.
Make sure that this value does not exceed 50 psi. Release the air pressure only after this step.
Take into account that without relieving the air pressure, the rear suspension can cause injury when you remove the shock absorbers. Here are some detailed pressure recommendations:
For a single rider weighing under 160 lbs. the psi should be around 5
For a single rider weighing between 160 and 200 lbs. the psi should be between 5 and 10
For two persons riding the bike, cumulating less than 300 lbs. the psi should be between 20 and 30
For two persons riding the bike, cumulating more than 300 lbs. the psi should be between 25 and 35
For two persons plus bags, the psi should be between 40 and 50, with 50 being the complete maximum pressure accepted
Conclusion
Hopefully, this short article was helpful in your search for the best air ride for Harley Touring.
We tried to include here some of the best products on the market, together with the most useful tips for installing and maintaining the air ride in good condition.