Searching for the best auto tuner for Harley Davidson? You have come to the right place, we have enlisted the top 5 Harley Davidson tuner for Harley 103 lovers.
As you know, in 2012 Harley introduced us to high-performance 103 cubic inches v-twin 1688CC for Softail and touring models.
As a proud owner of Harley, you will definitely want a tuner to promote the performance of your motorcycle.
Sometimes tuning may be a hard job but with a perfect tuner, it can be a fun job to control fuel management and throttle position.
As a real fact, a tuner requires a lot of bucks, so before making a decision, we should discuss some basic questions about when you should use a tuner and when not.
The Comparison Table of Best Tuner For Harley Davidson (2023 Updated)
To know the process of Harley radio replacement you may check out.
Is Your Bike Under Warranty?
Because if there is any warranty left, then you have to use only Harley Davidson tuner likewise screaming eagle tuner or their manufactured products. Otherwise, Using a different tuner will crush your warranty.
Different tuner from other brands messes with ECM, and when you go in service, they will search their computer to find out the problem and no longer to support any damage because of it. So be careful before purchasing a new tuner.
Why Do You Need a Tuner?
What does the tuner do to Harley? A perfect tuner adjusts motorcycles functional objects likewise air and fuel ratio, fuel injection, and throttle response.
Of course, you will need a tuner, to get better performance of Harley on the fuel management system.
Do You Change Your Muffler/Exhaust Recently?
If yes, then you can add a tuner. Or your answer is no, then no need to add a tuner, if you change recently air cleaner, muffler, or cam, then you need a new tuner for improving ignition, fuel, throttle position, RPM, etc.
Unless there is nothing to worry about tuning after updating the exhaust system.
What Is The Best Auto Tuner For Harley Davidson on The Market?
In our research, FuelPak from Vance & Hines is one of the best auto tuners for Harley Davidson 103.
It comes with an auto live sensor to pick up data quickly, a smartphone app, and super user-friendly features to use.
Whether a beginner or pro-level motorcyclist, both will be comfortable with this tuner.
What is ECM and What Actually it Does?
ECM( Electronic Control Module) It's a short name for the Computer brain which controls different aspects of vehicle performances such as fuel to air ratio, timing, ignition, etc.
In one sentence, we can say ECM manages all the fuel management systems.
Best Auto Tuner For Harley Davidson Reviews
01. Vance & Hines Fuelpak FP3 66005 – Best Overall Harley Tuner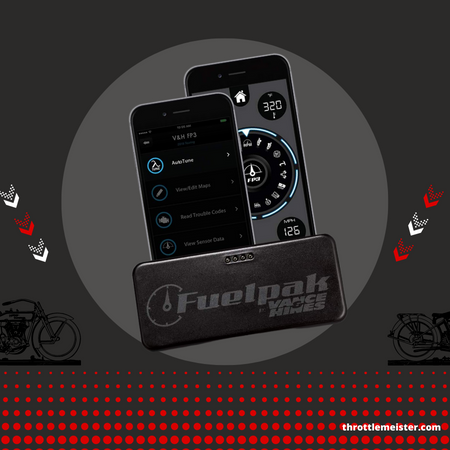 Vance & Hines Fuelpak is one of the best and most popular preferable tuners for tuning the Harley Davidson 103 engine.
It comes with high-quality features and unique flash technology to manage the fuel system easily.
It has many top-quality features to select as the number one tuner on the market, such as a vast tuning library, fast app, mapping, etc.
Detects coding error, exhaust, or throttle position or needs any changes in the camshaft.
Who needs anything else, if you get your all solution in one box, Fuelpak comes with all the facilities one Harley rider needs to tune-up for his motorcycle.
Autotune Features
Vance & Hines Fuelpak is one of the fast and quick tuners for Harley Davidson.
The tuner does all the fuel management, air cleaning ratio, exhaust updates, and camshaft combination.
Just plug-in the auto-tuning mode and the tuner does all the rest of things by itself.
Live Sensor Data
The tuner picks up live sensor data from your Harley to run better.
It diagnoses any coding trouble or system error within a second and alerts you to fix the problem. And, you can see the live data on the ride whenever you want.
Smartphone App
Fuelpak working system needs an android phone or phone. It actually connects with the app into a smartphone wirelessly via Bluetooth, recalibrates the engine, and maps to the exhaust system.
It's easy and super user-friendly to understand. Also, upgrades other advanced performance to run Harley smoothly.
FP3 Module
The Fuelpak FP3 Module has the best technology to recalibrates by ECM.
Vast Tuner Library
The tuner has a vast tuner library to tune up Harley Davidson 103.
Performance Models
Dyna 2012-2017
Touring 2014-2019
Sportster 2014-2019
Street 2014-2019
Softail 2011-2019
Included With Box
The tuner has manual instructions included, Cord or connector six-pin or four-pin, to connect with smartphone and bike.
Reasonable Comparing Dynajot Power Vision
Comparing with Dynajot power vision Fuelpak is much cheaper and budget-friendly. You can get Vance and Hines FP3 module within all equipment except the display screen.
No worries in 2023 smartphones do the screen very well for you.
Cons
Not as quick as power vision
No screen, need a smartphone to show data
02. Dynojet Black Power Vision Tuner PV-2B – Best Quality Tuner For Harley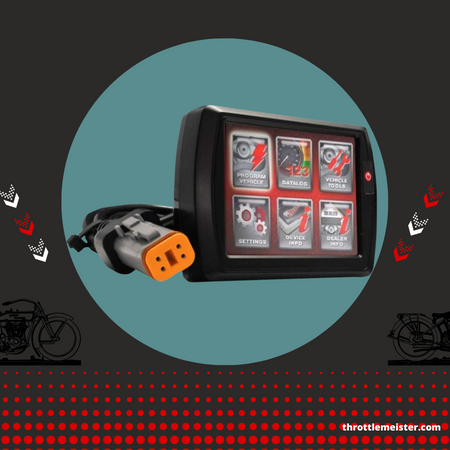 Our the 2'nd best tuner Dynajot – the tuner comes with awesome spark advance stuff; If you are taking your bike to a tuner and don't understand any stuff about auto-tuning so much, then Dynajot power vision is really a good choice.
Because it's self-done and only matters the thing is the tuner thinks for you whatever needs to be done.
No need to research about so much, rely on Dynojet. One of the best build body & easy to run.
All in one unit Box
Dynojet Black Power vision Auto Tuner is all in one unit box, it has a display screen, connector, and cord to connect with pc.
There is nothing to buy extra tuning parts if you have Dynajot on hand.
Autotune
Obviously, all the upgraded tuning products come with autotune features. And Dynajot has its best quality tuning system to help you adjust air and fuel ration.
The best thing is with the Dyanjot tuner is no need to keep remain on the bike, remove when you are done checking.
Tuners are costly so It's a privilege in bad weather, especially in rain or snow.
Display Screen
Dynojet power vision comes with a 3.5 inches display screen, which is a pretty smart and efficient upgrade.
No need to hold a smartphone to track down your motorcycle's fuel management data.
Tuning Parts
The tuner is Included Six pins and four-pin connector types; Cable to hook up pc, manually change stuff, and a cable for the bike.
Safer to Watch on Road
With Dynajot you can easily watch on road the throttle position and RPM, no problem at all showing the data.
Customer support
With great customer support, Dynajot serves its valuable customer quickly. You can send them to Gmail or contact them on their website.
Extremely Fast Comparing Fuelpak
Comparing Hence and vines Dynajot is extremely fast and super quick. Just plugin and show data on itself, no need to do anything by yourself.
Just need a little bit of information about how to tune the air and fuel accurately, throttle position.
By the grace of the internet, it's so easy these days to learn anything especially youtube shows doing stuff by Harley owner.
Performance Models
Switchback 2012 – 2016
Fat Boy 107 2018 – 2019
Road King 2014 – 2023
Heritage Softail Classic 2011 – 2017
Freewheeler 2015 – 2023
Cons
Learn About Harley Oil Pump Check Valve Repair.
03. Vance and Hines FP3 Fuelpak 66007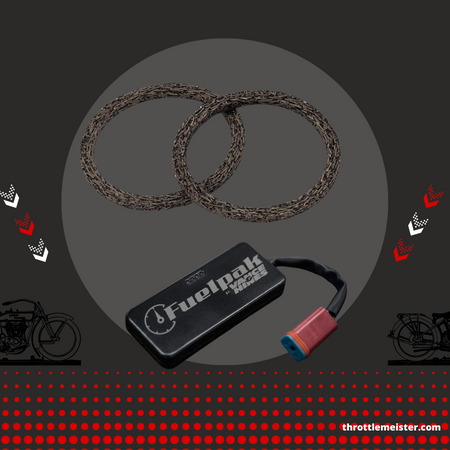 It will be very easy to manage the fuel reserves of your Harley motorbike with this fuel pack from Vance and Hines.
Using this kit is extremely easy, as it connects with your smartphone, via Bluetooth. It works both on Android and iOS devices, as long as you have the right app installed.
You can easily use the kit to tune particular components of your bike or simply choose between various grades of fuel.
With a generous tuning library available at all times, completing the best tunes will be an easy and convenient task.
Autotune features
Looking for precise tuning of your bike? With the autotune features provided by this kit, you'll get things done fast and easily.
This tune makes use of factory sensors, which makes the bike's tuning even more precise, so you can enjoy the best performance for each ride.
You can use your smartphone to see data provided by sensors in real-time.
This way, you'll know for sure how things are going and whether there's a need for further tuning.
Display live sensor Data
With the help of your smartphone and app, it is easy and convenient to get live data from all functioning sensors. What kind of data will be provided this way?
You can check on everything starting with speed and going up to the temperature of a cylinder head, RPMs, selection of gear, voltage, and other highly valuable data.
Being able to tap into this kind of data is useful, without a doubt, as you'll be fully aware of your bike's performances and will be able to make tunes accordingly.
Need Smartphone app
While it is extremely convenient to access precious data regarding the performance of your Harley Davidson bike, it is worth knowing that this cannot be possible without an adequate app.
So yes, this kit requires a special app, created to work with the kit. The best part is that the app works both for Android and iOS devices.
No matter what you use, there will not be any issues in getting the benefits of this kit.
Other than that, you won't have issues using the kit. The product connects easily with your mobile device, via Bluetooth.
So, you don't need to follow any complicated instructions. Just download the app and make the connection possible by turning on the Bluetooth connection.
Vast Tuning library
When you're looking to buy an auto tuner, most certainly you're interested in all the upgrades and calibrations that can be achieved with the product.
Offering a generous tuning library, this product can answer the most varied requests.
Besides bringing the engine's parameters to optimum values and mapping the bike's exhaust system, other additional calibrations can be obtained by browsing the library.
If you are suffering from Harley Shifting problem this article may help.
Cons
Will require CO2 sensors for stage 3 and above, which is sold separately;
Features
Autotune features
Display live sensor Data
Need Smartphone app
Vast Tuning library
Performance Models
Sportster 2007-2013
Softail 2007-2010
Touring 2007-2013
Dyna 2007-2011
04. Dynojet Power Commander V Autotune Kit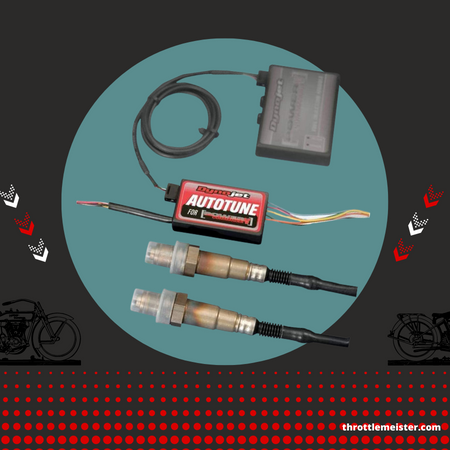 Making your Harley Davidson bike deliver amazing performances was never easier. Equipped with a 4-pin connector, this piece of equipment will easily become part of your bike's system when positioned in the diagnostic port.
It will immediately start monitoring the air-fuel ratio, making sure your bike gets the right combination for the performance you crave.
However, it is worth knowing that the product was created to be used together with a fuel tuner also made for Harley motorcycles, more precisely the Power Commander V. So, you will need to check this out as well, before making a purchase.
How does it work? This autotune kit will pick up data from the bike's computer and will direct it to the Power Commander V, mentioned earlier.
Thus, the fuel tuner will make sure the bike receives the right amount of fuel-air ratio for ideal performance.
In other words, it will let you feel like the bike is transforming as you ride it, which will add to your riding experiences.
Compact design
When it comes to bikes, every available space matters. So, it is always a good thing when we can use compact and light gadgets and devices that don't influence the bike's weight and behavior on the road.
Another advantage of getting a compact auto tuner is that you can pack it quickly and comfortably.
If you want to unplug it, it will certainly fit inside the pocket of a backpack.
Not to mention that an auto tuner that has a compact design will be easier to install and fit, not bothering the aspect of the bike in any way.
Connects to PC via USB
Would you like to check the stats and data on your PC, where it is easier to read all the details? This auto tuner makes this wish possible via a USB connection.
If you want to check on your bike's performance and evolution, being able to tap into data from your computer is always a plus.
Luckily, this device allows a simple and fast connection that can be used anytime you want.
Each cylinder is tuned separately
Having each cylinder tuned individually is the best way to ensure that the bike will run smoothly and will react as desired when on the road.
Even if they are programmed to work together as a system, it is not unusual for the cylinders to record slightly different values during the functioning of the engine.
This won't keep you from riding the bike, but it may affect the way it performs.
That's why it is great that this autotuner can take care of each cylinder separately.
With its help, each cylinder will get the attention it needs, which will turn the bike into a much more responsive and exciting means of transportation.
Tuning done while riding
You don't have to stop to get the bike in tune as desired. The auto tuner will take care of this part as you ride, so you'll experience no interruptions.
After all, the data required to assess the performance of a bike is best to be obtained when the engine is running.
Thus, the auto tuner will record this data and will make the necessary adjustments on the spot. Enjoying a better bike will become available immediately.
Cons
The sensors shipped with the product may not be enough, so there's a chance you'll need to buy additional O2 sensors;
Performance Models
Road King 2002 – 2013;
Electra Glide Classic 2002 – 2009;
Fat Boy 2001 – 2010;
Dyna Low Rider 2004 – 2009;
Features
Compact design
Connects to pc via USB
You may check Harley radio troubleshooting.
05. Vance & Hines Fuelpak 61001A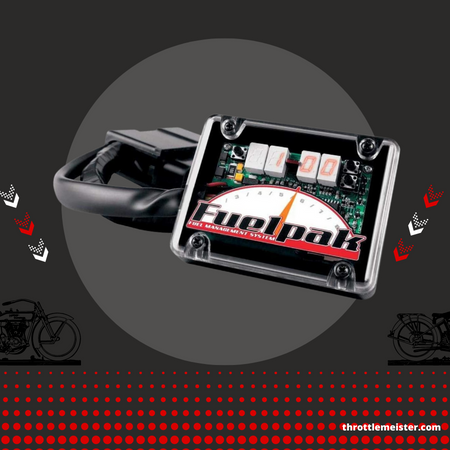 If you find it complicated to tune the injection of fuel into your bike, this kit was made to make everything simple and convenient.
By simply touching a button, it will be possible to perform fine adjustments to the fuel mixture that will be used by your Harley bike.
This will be fulfilled by a system based on advanced sensors that will measure the fuel mixture to the finest details.
What will you enjoy if you use this autotuner? You will sense the great power developed by the engine of your bike.
Also, the throttle response offered by the bike will be greater and prompter. In other words, your rides will become more exciting and enjoyable.
In case you're worried about not knowing how to properly use the device, don't be.
It will simply connect to the harness existent on the bike, which shows the item's user-friendliness.
And you don't need to program it or utilize any software as well. Just install it and let it do its job.
The values utilized by the device are enough to increase the performance of the bike.
Shows live sensor data
The data provided by the tuner's sensors will be real-time information. This way, you will constantly know what is going on. The data will change based on your driving behavior and bike performance.
Auto tuning system
The system will do all the necessary tuning. So, you don't need to have any mechanical knowledge or experience in tuning bikes to use such a device.
The auto tuner doesn't require the use of any software and you don't need to adjust or program it anyway. It knows what needs to be done, due to its sensors.
Smartphone app user
We are used to utilizing our smartphones on a daily basis, for a wide variety of tasks.
Having a mobile app for a bike's autotuning device is, under these circumstances, an advantage.
With the help of the app, the performances of the motorcycle will be transparent at all times and the user has the possibility to check the most important parameters.
Fast and vast tuning library
Finding the ideal tuning features won't be an issue with a generous library is available around the clock.
Based on your preferences and needs, just tap into the tuning settings provided by the device's library and let the magic happen.
This makes the device easy to use even by inexperienced users. Also, it opens doors toward owning a better-performing bike with minimum effort.
Cons
The original model is not legal in California. If you live in California you will have to buy an approved model, which is promised to have the same features.
Features
Shows live sensor data
Auto tuning system
Smartphone app user
Fast and vast tuning library
Performance Models
2011-2018 SOFTAIL
2012-2017 DYNA
2014-2018 STREET
2014-2018 TOURING
2014-2019 SPORTSTER
To read about the common problems of Harley Tri-Glide, read more.
How To Choose The Best Auto Tuner For Harley Davidson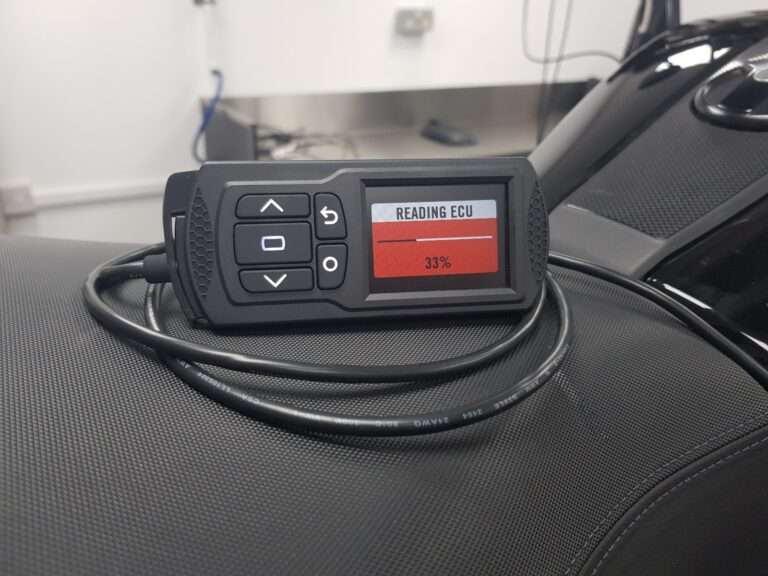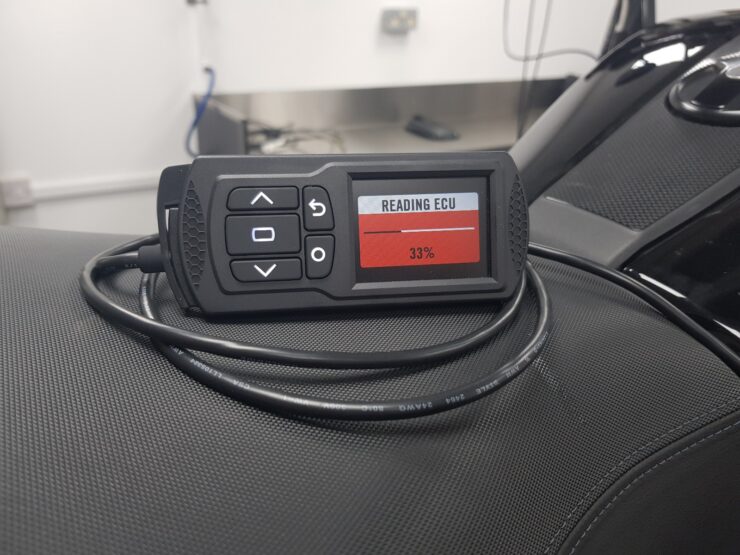 Before adding a tuner, you should know how much you are going to spend, and how to operate the tuner on pc or phone, and how much fuel the injector needs, where to add fuel, and where to not.
Where not to touch the ignition and where need to touch a little bit. How to choose the best auto tuner for Harley Davidson?
Need to know details about compatibility, state emission laws, how much your budget, different features, and tuning parts.
Below we have discussed some important points to look out for before deciding to buy a tuner for Harley.
1. Compatibility
Before everything make sure the auto tuner you have selected, it's perfectly compatible with the version of yours. Because different Harley needs different models and makers of tuners.
Some may suit Softail, Dyna, Sportster, but guess you are a rider of touring. Then you must see the instructions which are indicated clearly that this auto tuner is designed for that Harley model only.
It's very important to figure out which tuner model supports what auto tuner. If you face too much confusion you may ask the manufacturer to clear all the doubts.
2. State Emission Laws
State emission laws are the 2'nd thing you need to know before purchasing. Make sure the auto tuner you have selected permitted in the state or country you are going to ride.
Because US state laws have some rules and regulations regarding the uses of the auto tuner on the road.
3. Budget
Spending on tuner is lots of bucks, so spend it wisely. If you go with Dynajot it may cost you a bit, comparison of Fuelpak.
Fuelpak is reasonable and worth every penny only the difference about Dynajot is the display screen.
4. Autotune Features
You are searching for autotune features, obviously, then the features will come with it.
Autotuning does the fuel consumption adjustments task without any trouble and error. So easy and simple tuning when you have an autotuner for your Harley Davidson.
5. Flexibility/Wired or Wireless?
Some tuner comes with a wired facility and others may have a wireless connection.
If you choose wireless then it needs BlueTooth to connect via smartphone.
The options are available in Fuelpak, it works connecting android or iPhone via Bluetooth.
Dynajot is a wire-based tuner, it connects by wire and the display screen shows data while you are riding away, the options are more functional.
But Fuelpak does not provide this facility, you have to control the tuner by switching phone app which is kind of annoying sometimes.
6. Tuning Parts/Accessories
Before purchasing a tuner, search the descriptions of tuner accessories to save on next. Usually, a Tuner manufacturer tries to provide all the cord, cable, or connectors.
Our selected Dynajot and Fuelpak provide all the accessories and parts included in the parcel box.
7. Warranty
As we mentioned before tuner is gifted on heavy bucks, you should confirm the warranty card.
It will help the servicing facility if you find any trouble after purchasing or using it on Harley.
The solutions of Harley wheel bearing problems.
Common Harley Tuning Problems
01. Hot Engine at Idle
02. Exhaust Pops out on deceleration
03. Throttle High Idle Speed
It may be tricky to install and use for inexperienced users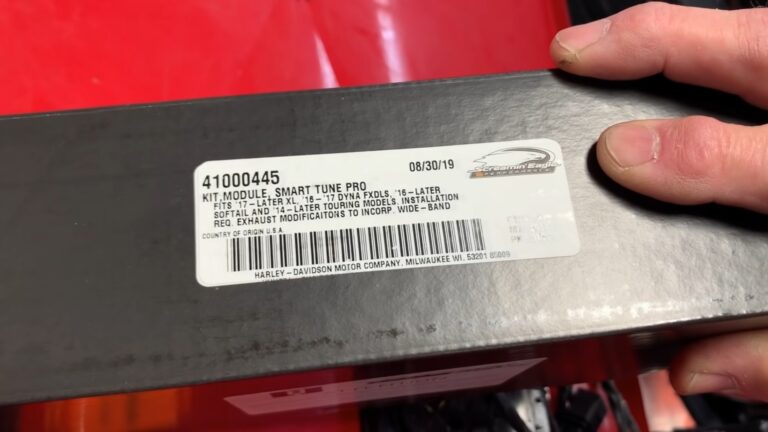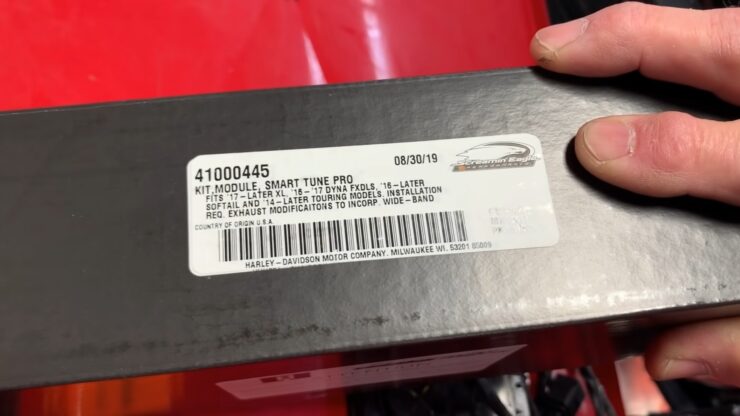 Although an auto-tuner is advertised as an easy-to-use product and some even provide a mobile app, users with no to little tech experience may have a hard time using it.
So, setting up the device, making the right adjustments, and getting it to work as desired may be quite challenging.
It is recommended to carefully read the instructions and user's manual before performing any operation with the auto tuner.
Also, if you come across any difficulties, call customer support to get the needed guidance.
Customer support is not always the best
Speaking of calling customer support, it is recommended to do so, although not very many customers were happy with the provided services.
Some complained about having a hard time getting in touch with a company representative or having to wait for way too long on the phone before hearing someone answer.
Thus, if you may need some help and decide to call customer support, there's the chance to find out that this guidance may be rather difficult to obtain.
You may not enjoy the desired level of customization
Some auto tuners for Harley Davidson bikes brag with a generous library when it comes to settings and adjustments.
However, you will have to settle with what they already offer, without having the possibility to make any changes.
And if you don't get such a library with your auto tuner, the level of customization may be even lower.
So, spend time reading the features a product is offering, making sure you'll have a clear idea about what you're going to get.
The O2 sensors provided by some kits may not be sufficient and additional sensors will have to be purchased
Certain auto tuner kits are shipped together with O2 sensors, which are supposed to make the device work better and offer precise tuning to the bike.
However, several bike owners noticed that the sensors received this way are not performing well enough.
This meant they had to buy additional O2 sensors, which means an expense of several hundred dollars.
You either make a backup plan in case this happens, so you won't have your budget off guard, or you spend more time looking for a product that provides everything you need.
FAQ's About Best Tuner For Harley 103
How to adjust throttle sensitivity with Fuelpak tuner?
What auto tuner is best for Harley Davidson motorcycles?
When asking about the best auto tuner for Harley Davidson bikes, you may get split opinions.
Some will say that the Vance & Hines tuners are the best, while others will prefer those provided by Dynojet.
What is important to remember, when shopping for an auto tuner, is for the product to be suitable for your Harley bike model.
Also, check the product's specifications as well, making sure it will deliver what you need.
Why do I need a tuner for my bike?
If you prefer riding your bike as it was made by the manufacturer, with stock parts, then it doesn't require a tuner or any tunning operations.
But, if you're interested in changing the bike's exhaust, filters, or mufflers, then tuning will be needed and recommended.
Many bike owners prefer tuning their bikes so that they enjoy more exciting riding experiences, represented by a higher torque power and top speed.
How to Fix Decel Pop with a FuelPak?
Do Harley Davidson bikes require tuning?
Tuning is not required in the case of Harley Davidson bikes if you decide to keep the parts installed by the manufacturing factory.
But, if you decide to change the air cleaner or, even more important, the bike's exhaust, tuning is recommended, as it will allow you to get the best out of your bike.
So, whether you considered doing such chances or you did them already, an auto-tuner may be a great choice.
What do "stages" represent when using an auto tuner?
Tuning a Harley Davidson bike means upgrading its performance by making a set of adjustments.
These adjustments are categorized into stages, each stage consisting of a number of changes.
Stage 1 upgrades mean you'll change the air cleaner and exhaust. Stage 2 upgrades regard modification that will increase the exhaust flow and intake, usually by adding cams.
Stage 3 upgrades imply installing high-compression pistons. Stage 4 upgrades will add bigger cams and throttle bodies, and, of course, ported cylinder heads, for a higher top speed.
Conclusion
A tuner is an important part of the fuel management and adjustments of Harley after changing muffler or figuration.
An auto-tuner precisely ensures your Harley Davidson performs a longer life and drives smoothly.
Dynjot and Fuelpak are the best and perfect tuner for Harley auto-tuning. It saves a lot of money on fuel consumption. Choose it according to your model and cam.