As you've probably learned the hard way, the factory stereo head units of Harley Davidson bikes are not all that great.
In this article, we are going to talk about the best Harley stereo upgrade. You have 10 models to choose from, the first of which we consider to be the best.
In addition to the 10 products, make sure to check out our buying considerations. Depending on these, you can decide which one best suits your needs.
Without further ado, let's find out what the best Harley stereo upgrade is.
What Is The Best Harley Stereo Upgrade?
The best Harley stereo upgrade you could get is the Aquatic AV MP5, provided it fits the Harley model you own.
As a rule of thumb, this will fit pretty much any Harley Davidson from 1998 to 2013, but even some models after this year.
This unit is among the most popular, and for very good reasons. In simple terms, it sounds great and is easy to operate.
Why Aquatic Av Is The Best Brand For Harley Stereo Upgrade?
Judging by the words of others, this unit will continue to function perfectly for many years after purchase.
It has Bluetooth, unlike the average factory head unit. This will make a huge difference, as this feature will make it much easier for you to listen to your favorite music.
Below you will find in-depth information about this unit.
Comparison Table of Best Harley Stereo Upgrade
Top Picks of 2023
01. AQUATIC AV MP5 – Best Popular Harley Stereo Upgrade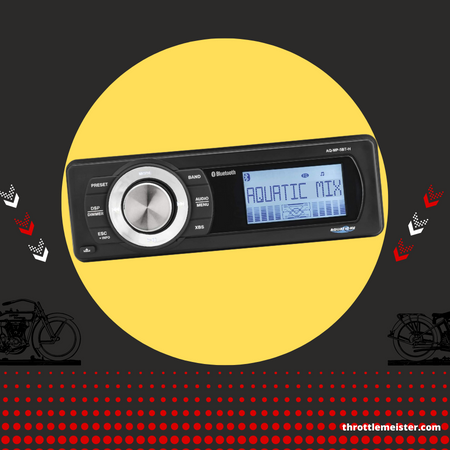 Highlighted features
Fits 1998-2013 Harleys
Great in any environment
Controllable by the rotary knob
Plug and play
Compatible with BT, USB, MP3
The Aquatic AV MP5 is the go-to radio unit for so many users who are looking for a good replacement on their Harley Davidson bike.
It will fit almost any model from 1998 to 2013 and beyond, but you should still be careful and try to make sure you don't buy something that you don't need.
The Aquatic AV MP5 can be connected via Bluetooth, but it works just as well with USB and MP3 devices.
In other words, you will be able to listen to music on the road in any way you prefer.
In terms of installation, most are satisfied that it is easy to install. It should be mentioned that there are some clients who did not do as well.
You may experience some problems when tightening the bolts. In the comments, you will see that each client found his own method that worked for him. You might want to check those out.
But after you go through the installation, this head unit really starts to shine. The sound quality is top-notch. It is easy to use and will not give you any hassle.
Last but not least, yes, it does have a clock. Some customers have said that this unit doesn't have this feature, but it actually does.
It's not the most revolutionary feature, but it would have been much worse not to have it at all, don't you agree?
Pros
Great sound quality.
Big storage compartment.
Cons
The 4 bolts could give you a hard time installing.
02. PIONEER DEH-80PRS – Best Quality Stereo Upgrade For Harley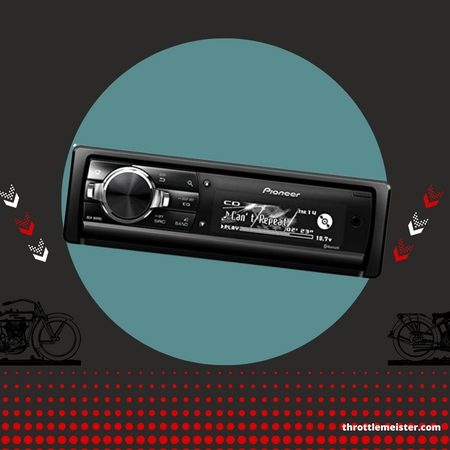 Highlighted features
Powerful and clean sound
Easy to read and use
Connects to Bluetooth quickly
Very fine-tunable
Supports Pandora
Pioneer DEH-80PRS is appreciated by users for two main reasons: the sound quality is extraordinary, which is what most people usually look for when buying a stereo upgrade.
The second important thing is that there are so many things that you can fine-tune on this, that you could probably play with it for hours until you achieve the perfect sound quality.
Sure, this will please audiophiles, who love this sort of thing. But this does not mean that DEH-80PRS will not be to the liking of those who are less satisfied.
On the contrary, if you are part of this category, you will appreciate how easy it is to use this model.
There is also a negative detail to this product. But it is said that any object, no matter how good it is, must also have drawbacks. It seems to be valid in this case as well.
This unit doesn't have a pause button on the dash. In order to pause the music, what you need to do is to either pause it from the remote or browse the menu features and look for the pause function manually.
It's true that it's not that big of a deal, but there are times when you need to turn off the music as soon as possible.
Leaving this small drawback aside, the Pioneer DEH-80PRS will not disappoint you, as it compensates with many other features, which make this unit really stand out.
Pros
Perfect for audiophiles
Automatic EQ microphone
Ideal if you like fine-tuning
03. SONY XAV-AX7000 – Best Choice Harley Stereo Replace

Highlighted features
Traffic information
Huge 6.95" display
Touch screen
Voice control
Can connect to multiple devices simultaneously
Sony XAV-AX7000 is not just a stereo upgrade anymore. At this point, this little unit can do so much more that you could say it enhances almost every aspect of your overall experience.
First of all, it's a very powerful unit. Sony praises this product saying it rivals an external amp. They're not wrong.
The second thing that makes this product stand out is its touchscreen. Nowadays more and more stereo units have a touchscreen, but how many of them do their job as well as older models?
The Sony XAV-AX7000 does everything a regular stereo unit should do, plus a few other things.
With this, you can get real-time information about the traffic on the road. You can search for the most favorable routes, places where you can make stops, and other details that are bound to come in handy.
It's also compatible with WebLink3 and has voice control features. It has Apple CarPlay, Android Auto and you can connect multiple devices to it.
But what you're probably going to like most is the fact that you can customize many sound options. That is if you're the kind of person who enjoys fine-tuning the radio in order to get the perfect sound.
These are the most important features of the XAV-AX7000, but they are much more numerous. You'll have to explore the 7-inch display and find them yourself.
Pros
Very powerful sound
Apple CarPlay + Android Auto
WebLink3 Compatibility
Cons
Some might not like its modern aspect.
04. ALPINE CDE-172BT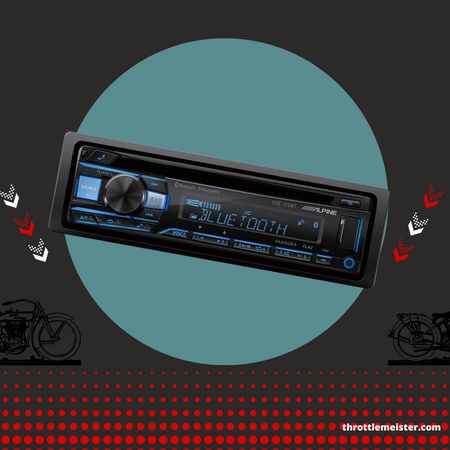 Highlighted features
AM/FM tuner
Compatible with CDs, USB, BT
Pandora compatibility
Traditional aspect
Alpine is another company that offers quality stereos, much like Aquatic. This model is a relatively classic one.
We thought that if the other units on this list are not to your liking because of their modern look, you will definitely like them.
This is an AM / FM tuner that people use on their vehicles, including on their Harleys. It works with both USB drives and CDs, if you're still into that.
And yes, it also has Bluetooth, which you can use either to stream music or use it for hands-free calls.
Despite the traditional look and simplistic functions, you will be surprised that the Alpine CDE-172BT model has more functions than it initially seems. As an example, it is compatible with Pandora.
Don't know what Pandora is? It is an internet music streaming service that is pretty similar to how radio works.
The music you listen to on this platform is selected by Pandora based on the music you usually listen to.
But back to this model: if you think you need a radio with classic functions and a little extra on top, this one might be for you.
The price is also advantageous, and the only real problem with this radio would be that its screen is small.
Some people prefer this way, but it may confuse you, especially if you use it on a Harley bike. It's up to you!
Pros
Great replacement
A surprising amount of features
Budget option
05. AQUATIC AV AQ-MP-5UBT-H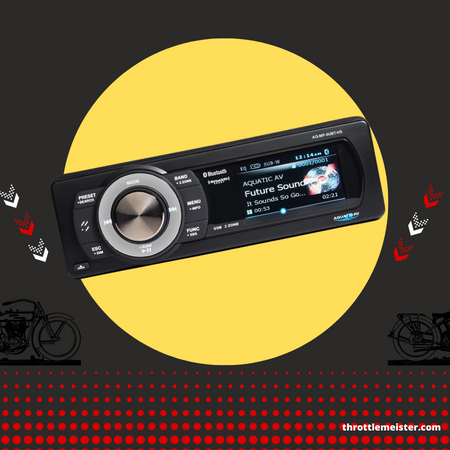 Highlighted features
3" display.
Internal 288W amp.
Simple installation.
Fully waterproof!
USB and Bluetooth compatible.
You'll probably be surprised to hear how loud this little unit is. Although it has a display of only 3 inches, it has a built-in amplifier with a wattage of 288.
If that's still not enough, you can attach it to other amplifiers or to a subwoofer, as it comes with two pairs of RCA outputs.
In terms of installation, you will not have big headaches. This model can be installed with the connectors which your bike already has.
It will probably be harder to make the rear speakers work. If you only have front speakers, then there will be no problem, but more customers have noticed that the rear ones might become a problem.
In this regard, we remind you that you can ask for the help of a professional for installation, in case you are not sure what to do.
This Aquatic stereo is supposedly waterproof, which several customers have confirmed.
Even so, you should not think that it is invincible, as water is still going to have an impact on it in the long term.
Much like the other radios, you can remove the faceplate to reveal the storage compartment, in which the phone fits, and so on.
The only problem, which is valid with many other models, is that the screen may be hard to see in sunlight. Other than that, we warmly recommend it.
Pros
Capable of loud volume thanks to the high wattage.
Displays the album artwork.
Good storing capacity.
Cons
Screen hard to see in sunlight.
06. ROCKFORD FOSGATE HD9813SG

Highlighted features
Comes with two speakers.
Compatible with Street Glides and Electra Glides.
No cutting/drilling for installation.
Durable in any environment.
Tuning presets.
Rockford Fosgate specializes in the manufacture of vehicle accessories, including Harley Davidson motorcycles.
This product has been specially designed for certain Harley models, which means that the installation is as straightforward as it could possibly be.
If the thought of cutting wires scares you, consider this option, as it could make your life much easier.
The bolts should go to the factory attachment point, so there is no drilling required whatsoever.
This package contains the unit (a media receiver) and two speakers. The speakers fit perfectly in places where the stock speakers normally are, so – again – these will be very easy to install.
In terms of usage, the unit allows you to do some customizing sound, but there are a few tuning presets for people who don't care about such details.
Rockford Fosgate says these speakers were built specifically to overcome noises such as wind and engine noise, but some customers have complained that they could still have been louder.
If we were to mention a drawback, it would probably be it.
But overall, this set is worth considering, firstly for how convenient it is to install it, and secondly for tuning presets.
Pros
Tuning presets.
Direct replacement.
The speakers fit perfectly in the fairing speaker location.
07. AQUATIC AV-AQ-MP5UBT-HS

Highlighted features
3" display.
USB, MP3, Bluetooth compatible.
Built-in SiriusXM receiver.
Album artwork on the display.
Has a clock display mode.
The list goes on with another Aquatic model, but this time it is the AV-AQ-MP5UBT-HS model.
It was designed specifically for certain Harley Davidson models from 1998-2013 and beyond. When you buy a model that fits several vehicles, you run the risk of complications.
But since it fits perfectly, you have no reason to worry.
It has a built-in SiriusXM receiver, which grants you the possibility of tuning to almost 200 radio stations. And yes, you can listen to music via Bluetooth, or you can connect it to a USB drive.
The screen is relatively small, measuring only 3 inches, but it displays the album artwork if you're listening to a song from an Apple device.
It's a small little detail, but it's these little things that add up and eventually make up a good unit.
Lastly, you can charge your phone by connecting it to this unit. Again, it may seem like an insignificant feature, but it will definitely help.
Perhaps this unit could've been a little bit cheaper, but if you're ready to invest in a good Harley stereo upgrade, it's a good choice.
Pros
Access to over 170 radio stations
Direct upgrade/replacement
Interactive display
08. JENSEN HD1BT2

Highlighted features
Fits Harley Tourings
Easy installation
BT compatibility
Works with Apple products via USB
Here's another model with a plug-and-play installation. It fits Harley Tourings and all you have to do is place it inside the fairing without having to cut any wires or do extra work.
It is waterproof, at least to some extent, so you won't have to worry about every single water splash.
Usually, riders are afraid that water will damage their entire stereo system, but you won't have to worry about it with this one.
Jensen praises the HD1BT2 model for the fact that, after installation, all the handlebar functions will keep working perfectly with the stereo unit.
It's true that some models don't even work properly with the existing handlebar functions, but this one works like a charm.
Lastly, it does have Bluetooth and it also works with Apple products, iPhones, and iPods more specifically, via USB. If you do attach a device to the USB port, it also charges it.
And there you have it. This model gives you all the features you could ever need.
Unfortunately, although this model would be a great choice if you ride a Touring bike, keep in mind that it wouldn't be the best pick for other models!
Pros
Works perfectly with the handlebar controls.
Plug and play.
Great choice if you ride a Touring.
Cons
Not so great for non-Touring bikes.
09. ENROCKMARINE W10-CW3

Highlighted features
FM/AM Tuner
microSD, USB and aux jack
Waterproof and UV resistant
Comes with a remote control
Specifically made for very wet situations
The EnrockMarine W10-CW3 was originally designed for boats, but can also be attached to a Harley bike. In fact, this would actually be a great stereo upgrade, and we're going to explain why.
First and foremost, is designed for very wet environments, this unit has waterproof housing, so a little bit of rain is not going to do anything to it.
Moreover, it's UV resistant, which means that it won't crack at all, not even in the long term.
Now that we've got that out of the way, let's talk about its main features. This is an FM / AM receiver.
It also has an aux jack for MP3 players, as well as a USB drive and even a slot for microSDs.
What we've noticed is that it doesn't have Bluetooth, which is a real drawback if you like wireless stuff.
But if you prefer connecting it to an MP3 or anything with USB, you're fine.
Not to mention that this is a relatively cheap stereo unit. Despite the price, this radio does a lot.
It even comes with remote control, although it's unlikely that's going to come in handy, considering that you want to attach this to your bike.
Still, the selling point of this radio is that, as we've said, it's incredibly durable in any situation.
10. GOHAWK RD8 GEN.2

Highlighted features
Attaches to the middle part of the handlebars
FM tuner
Bluetooth compatible
Slot for microSD
Clock display mode
I kept the most special model for the end. Just look at what this stereo looks like and you will understand what it's all about.
Basically, it attaches directly to the middle of the handlebars, although you are going to need to do some wiring.
It won't be hard though: you can find the instructions right on the Amazon page of this unit, offered by GoHawk themselves, or in the instruction manual that it comes with.
Some customers recommend this unit if you have a fairing that blocks the wind, otherwise, it won't be very loud.
Other customers are glad that, on the contrary, this unit sounds great even at high speeds.
Some of them even recorded this unit in action, and they're right, it sounds loud enough even without protection against the wind.
Another thing worth mentioning is that this is very inexpensive! And this can be either an advantage or a disadvantage. It depends on what you are looking for.
People have argued that this unit can feel cheap, but for this price, it does its job incredibly well.
Pros
An unusual and neat aspect
Powerful sound even at high speeds
Buying Guide of Best Harley Stereo Upgrade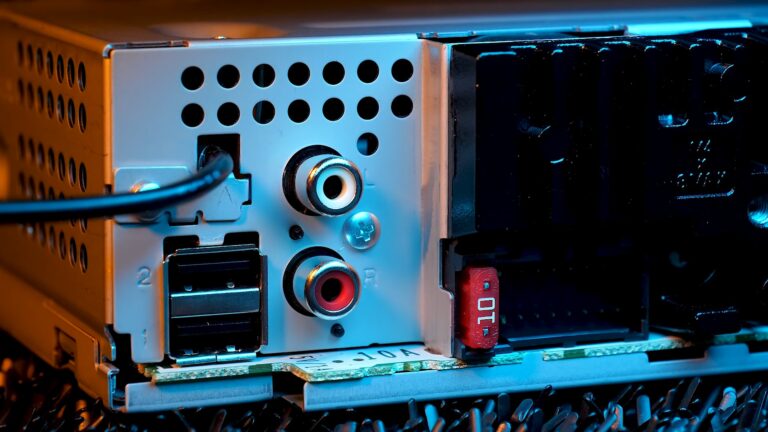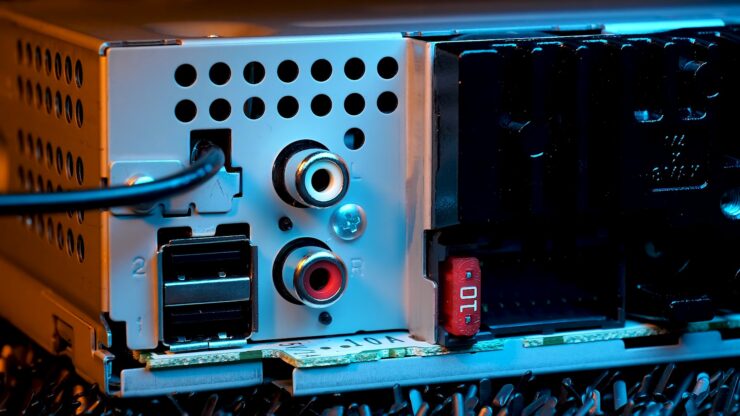 In this section, we will cover some buying considerations, which you should take into account if you plan to buy a really good product.
Moreover, in addition to buying considerations regarding stereo units, we will briefly discuss a few other accessories you may need.
Don't worry, it's not a big deal, mainly because they are not entirely necessary.
But first, let's talk about what makes a good stereo upgrade/replacement for Harleys.
How loud is the unit?
This is probably the most important aspect of any head unit out there. Riding means a lot of outside noise, whether it's the engine, the wind or the other vehicles.
And since that's the way it is, you need to have a unit that can handle it and be strong enough to cover all the other noises.
Unfortunately, there is no figure to tell us how strong each unit is, or at least not a credible one.
The best idea is to listen to those who have already bought a product and who know its limits very well.
This was the most important selection criterion for all the units in the list above, so you can be sure that no matter what you buy, your sound will be loud enough..
Bluetooth compatibility
In this day and age, most stereo units will have Bluetooth compatibility, especially those intended for installation in a car or motorcycle.
The reason for this criterion is simple: with this technology, you can connect your phone to the radio and listen to the music you have on it wirelessly. The keyword here is "wireless."
However, there are some models that do not have this function. For example, there is such a product on our list and it is called EnrockMarine W10-CW3.
This would be more suitable for those who only listen to FM / AM radio stations or want to connect via USB.
Nonetheless, the ability to connect to other devices via Bluetooth is one of the most important.
Water resistance
There will be times when you'll be on the road and the rain starts unexpectedly. Is your radio going to be alright?
Did you know, a good unit should be made to resist practically any situations on the road, and rain is one of them.
You will notice that although most of them are waterproof, it's a gradual thing. What we mean by this is that the more water, the less resistant your unit is going to be.
In other words, your units should be fully waterproof when there isn't much rain going on. But if the unit comes in contact with a larger amount of water, then it's very likely that it's not going to resist.
We are discussing the new EnrockMarine W10-CW3 model. This, being designed for boats, is waterproof to a greater extent than most radios, right?
It might be overkill, but if you really want to avoid any malfunctions caused by rain, consider adding it to your bike.
Fine-tuning
How much do you care about achieving the perfect sound on your stereo? If you do care about this, then you should probably look for a stereo unit that can be fine-tuned.
In this regard, we can recommend the Pioneer DEH-80PRS and maybe Sony XAV-AX7000 models.
These two, especially the Pioneer unit, allow you to fine-tune them and achieve the sound quality that fits you best.
Of course, if you are not passionate about such a thing, or if you are satisfied with the standard sound, you can still consider the model that comes with more tuning presets.
If you do choose one that has these, you can simply select the presets that you think sounds the best.
And if we were to recommend one of these, we would go for Rockford Fosgate HD9813SG.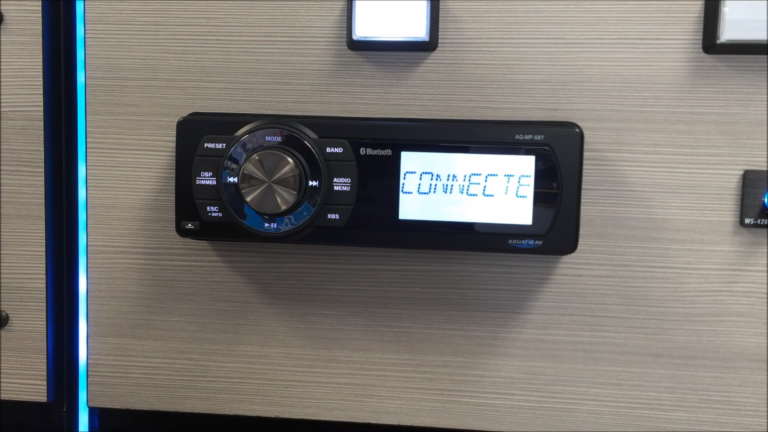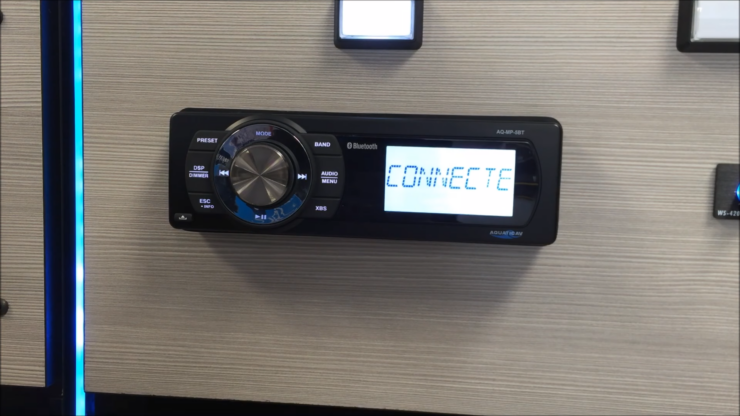 Installation process
This is an important one, which will probably interest everyone who wants to buy a Harley stereo upgrade.
The good part is that each unit must come with an installation and wiring manual, which will explain in detail exactly how to proceed.
If the installation does require some work with the wires, the entire process is going to become much more complicated. There are very good Youtube tutorials out there that would definitely help you.
Precisely because the process is complicated, we cannot fully explain it in this article.
On this occasion, we remind you that you can always ask for the help of a specialist, especially if you do not know how to do things like this or if you do not have the necessary tools.
But there is also the option to purchase Harley stereo upgrades that do not require any wiring.
Usually, they are made especially for certain Harleys models, which is why the installation is much easier.
External Amps
This is not a selection criterion for units, but more of a type. If the sound is not loud enough, consider attaching an external amp to your system.
Thus, do not lose hope if your current system is not too loud enough, as you can always make it a little bit louder.
There are other features to a head unit that you should consider, not only how loud it is.
But keep in mind that it doesn't matter how good your head unit is if your external amplifier, as well as your speakers, are not powerful enough.
FAQ's About Best Harley Stereo Upgrade
Q: What is the best Harley stereo upgrade for Harley?
A: There are a number of stereo upgrades you could make, the most important of which would be replacing the head unit.
In this article, we have examined the best head units for Harley Davidson motorcycles, and we have come to the conclusion that the one that meets all the criteria is Aquatic AV MP5.
The sound quality of Aquatic AV MP5 is vastly superior to that of the stock head unit.
It also has many more features, such as the ability to connect via Bluetooth to various devices, and it can be fine-tuned according to your preferences.
For more information about this model and other head units, read our entire article about the best stereo upgrades for Harley.
Q: Why should I replace my factory stereo head unit?
A: There are a number of reasons you should consider replacing your stock radio. First and foremost, it is known that they are likely to fail.
In fact, even if you get them repaired, they can still fail in the future.
In fact, it's not only stock head units that are considered to be cheap and low quality, but also stock Harley shocks and maybe other components as well.
Secondly, stock head units don't have Bluetooth, which should be a standard feature of any bike's sound system in this day and age.
These reasons alone should be enough to convince you to get a new one. But people also buy after-market stereos because they are considerably louder as well.
Q: Should I buy external amplifiers for my Harley?
A: If your head unit is not loud enough, you should consider buying external amplifiers.
However, if you have not already done so, we recommend that you replace the stock head unit.
Unlike external amplifiers, head units come with many features that could greatly enhance your overall experience.
And, most importantly, they could carry much stronger internal amplifiers, meaning that you wouldn't need to buy external amplifiers anymore.
So, again, the answer depends on what head unit you have right now.
Q: What should I look for when buying a Harley stereo upgrade?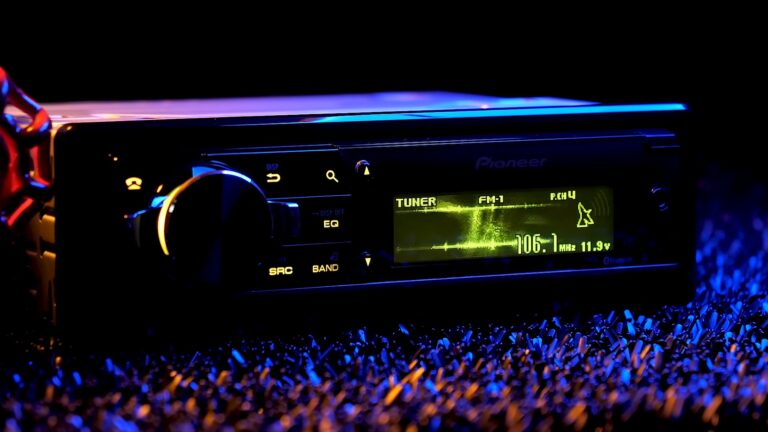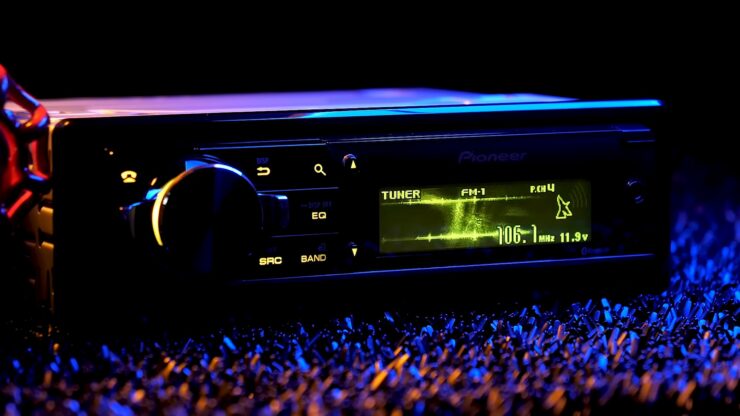 A: Obviously, the most important aspect of any stereo is how loud it is. In this regard, we recommend that you listen to former customers who have left reviews because they know best what the stereo can really do.
A good Harley stereo upgrade should also have Bluetooth compatibility, as well as the possibility to connect via USB.
This way, you'll be able to listen to music in any circumstances.
What features does it have? Is it compatible with Pandora, SiriusXM, CarPlay, Android Auto? None of them will have them all, so you have to think about which of these services would be useful to you.
Make sure the unit you're buying is also waterproof because you don't want it to stop working after a little bit of rain.
You may encounter stereos specifically made for cars that can be attached to bikes, but they may not be waterproof, because they don't need to be, considering their purpose!
Lastly, if this is your thing, see how much you can customize that particular unit. Some stereos allow you to customize the way they sound, which is amazing.
Q: How do I wire an aftermarket head unit on my Harley?
A: The process differs from unit to unit, and it's too complicated to explain in an article.
The best thing we can do for you is redirected you to a Youtube video, which will explain in detail every step.
Q: How can I make my Harley sound system louder?
A: The first thing you should think about is upgrading your existing head unit.
It doesn't matter how powerful your speakers and amplifiers are if your main unit is lacking.
Read our article for the 10 best Harley stereo units to find out which one is best for you.
The second thing you could do is choose a better set of speakers. These are the ones that produce the sound itself, so the sound quality depends a lot on how good the speakers are.
Last but not least, consider picking some external amplifiers.
There is a whole other discussion about how to choose good speakers and good amplifiers.
Let's be honest, although the head unit is the centerpiece, the speakers and amplifiers have to be at least as good for you to enjoy the best possible sound. 
Conclusion
Buying a good stereo unit for your Harley Davidson bike can be tricky. The major problem is that they do not fit any model.
In addition to this issue, many customers complain about the sound quality, the difficulty of installation, or the fact that the units stop working after a while.
However, our list features only the best units you could get your hands-on, so you can try them without worrying.