Here we are going to talk about the best shocks for Harley Touring. In total, we have no less than 13 models to choose from, depending on your preferences.
Also, if you are relatively new to these issues, you will also find explanations for each feature of a shock that you need to pay attention to.
Of course, if you do not plan to spend so much time on every detail, we have found a model that we're sure you're gonna like. You will find it in the next paragraph.
What Are The Best Shocks For Harley Touring?
Progressive Suspension 944-4020UT might just be the best shocks that you can get for your Harley Touring. They fit a lot of Touring models and are much better than the stock ones.
In this article, we will examine this model, as well as others if the specifications of model 944-4020UT do not match your needs.
Why Progressive Suspension 944-4020ut Are The Best Shocks For Harley Touring?
There are a number of reasons Progressive Suspension 944-4020UT are believed to be the best shocks for Harley Touring.
They are neither too stiff nor too soft but can be adjusted accordingly. And since this is the case, they will be to the liking of the ordinary rider, who is only trying to have a pleasant experience riding the bike.
They also have Frequency Sensing Technology and are easy to install and adjust.
Progressive Suspension 944-4020UT – Best Shocks for Harley Touring Suitable for any Situation
BURLY B28-1201B – Best Shocks for Harley Touring with the best reviews
Kcint Lowering Air Shocks – Best Shocks for Harley Touring for an affordable price
Top Shocks For Harley Touring Reviews
01. Progressive Suspension 944-4020UT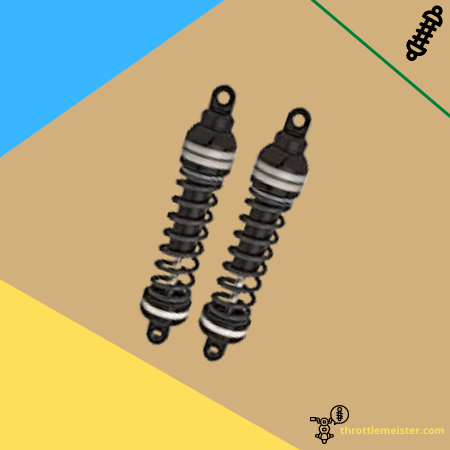 Highlighted features
Heavy Duty (250lbs +)
FST (Frequency Sensing Technology)
Standard height (11")
Simple installing process.
Easy to adjust.
These shocks fit almost all Harley Davidson Touring models. Even so, we recommend that you check the official page to make sure you are not buying something that doesn't fit to your bike.
The 944-4020UT is very popular among bikers, the reason being that these suspensions are suitable for any situation.
Customers appreciate the fact that these shocks are stiff enough to keep the bike stable in curves, but soft enough not to make you feel every hole you ride over.
Keep in mind that these shocks are Heavy Duty, which means they fit if you and the passenger are over 250lbs.
Even so, there are also Standard Duty and Super Heavy Duty variants, depending on what you need.
Pros
Not too stiff, not too soft
Good for numerous Harley Touring bikes
Great replacement for the factory shocks
02. BURLY B28-1201B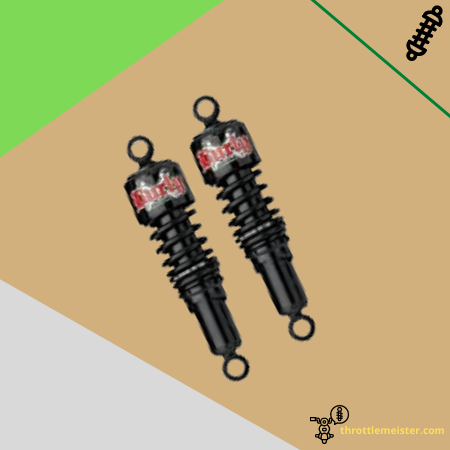 Highlighted features
Fits the 2004-2011 Sportsters
5" height
Stubby shocks
High durability
Attractive design
Burly is another good manufacturer of Harley Davidson shocks, much like Progressive. Their products enjoy a large number of buyers, as well as very good reviews.
The B28-1201B model fits Sportster bikes, which means a smaller number of Harley bikes.
Don't be fooled by the fact that this shock pair is only 10.5". Customers say that after replacing stock shocks with this one, the ride height did not decrease by more than half an inch.
These can be adjusted with a special wrench that comes bundled with the shocks.
One of the downsides is that the wrench doesn't look very durable, and since these shocks can only be adjusted with that type of wrench, you have to be careful not to damage it.
Pros
Great ride comfort.
Good bang for buck.
Easy to install
03. Progressive Suspension 944-4002UT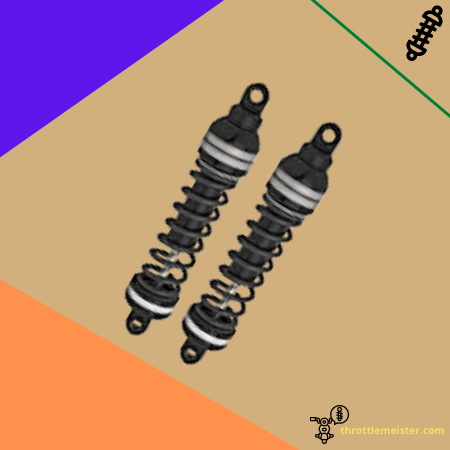 Highlighted features
Standard Duty (max. 250lbs)
Fits Harley Touring from 1984 to 2018
Standard height (11")
FST (Frequency Sensing Technology)
Ultra Touring spring combination
We return to Progressive Suspension, this time for a similar model. Although they are similar, they differ in the most important aspect of a motorcycle shock: the spring rate.
The first was a Heavy Duty shock, being suitable for people who are used to loading the motorcycle with more weight.
This, on the other hand, is for those who – more often than not – ride solo or with little cargo.
Much like the first model, this one has a standard height and fits a large number of Touring models.
We remind you that if you are not satisfied with how such a model feels, you can send them back.
Usually, the guys from Progressive Suspension will be glad to cooperate with you.
A customer, who complained that the shocks feel too stiff, sent them back telling them what was bothering him, after which he received a new set that felt much better on the road.
Pros
A great choice for average riders.
Worth the money.
Cooperative sellers.
Cons
Have to be mounted upside down.
04. HTTMT LS003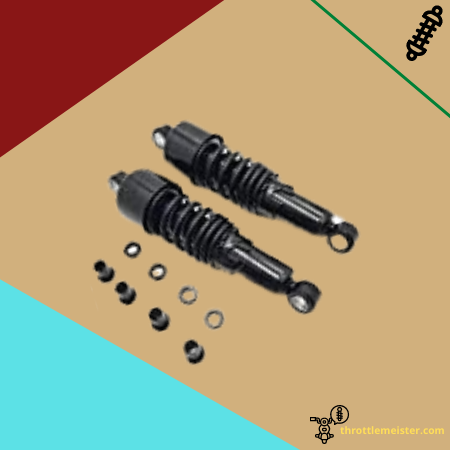 Highlighted features
5" height
Standard Duty
Easy installing
Fits many Harley Tourings
Good alternative to Burly shocks
Maybe the brand HTTMT is not as well known as Progressive Suspension and the like.
But the LS003 model fits a large number of Touring models. We recommend that you read the list carefully to make sure it is really what you need.
It has a height of only 10.5", which will make the bike much lower, without dropping from suspension travel by more than an inch.
The HTTMT LS003 is ideal for those who are not tall enough to touch the ground with their entire sole, but who do not want to reduce the performance of the suspensions too much.
There is also a small disadvantage to this model, namely that the lower bolt on the right side might be a little too long, and is likely to need a replacement.
Again, the company will be willing to replace your product if there are any problems, as they have done before.
Pros
Doesn't reduce the suspension travel.
Ideal for shorter people.
Easy to install them.
Cons
Lower bolt on right side might need to be replaced.
05. LEGENDS REVO-A 13IN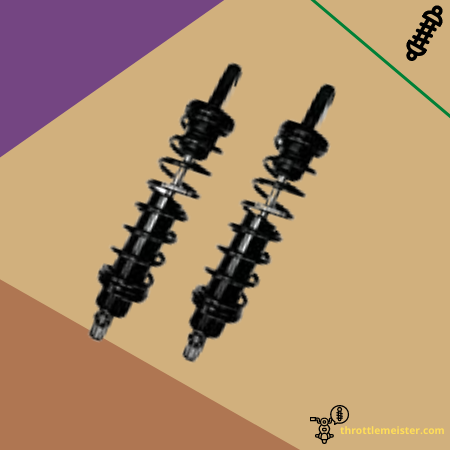 Highlighted features
13" height
Standard Duty
Easily adjustable
Communicative sellers
Great suspension travel
Chances are you've heard of Legends shocks before if you're at least somewhat familiar with bike technology.
In terms of product quality, Legends is at the top, and you will be convinced of this after trying their shocks.
This model is 13" and is Standard Duty, perfect for those who want to increase their ride height and who want to have a high-performance travel suspension.
Thanks to this, the potholes will not give you the same headaches as before, as long as you do the adjustments accordingly.
In fact, with 13", you should never bottom-out again!
Last but not least, Legends Revo-A are also easy to install, with people saying that it didn't take longer than fifteen minutes to replace the old shocks with these ones
Pros
Almost impossible to bottom-out
Ideal for lightweight
Adjustable by turning knobs
[/su_column]
06. PROGRESSIVE SUSPENSION 412-4077B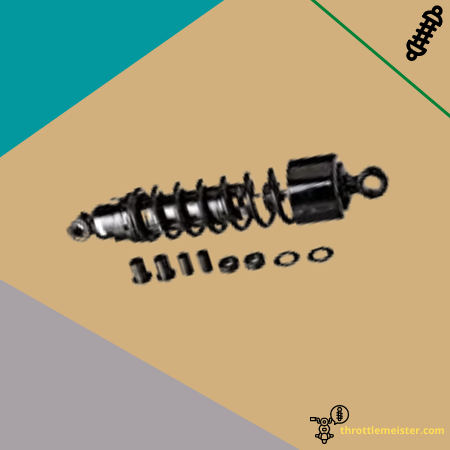 Highlighted features
13" height.
Heavy Duty (250 lbs+)
Very durable
Adjuster with 5 positions
Progressive rate spring
Model 412-4077B is what you're looking for if you want a combination of ride height and high spring rate.
These are Heavy Duty, meaning they're going to feel too stiff if you're not used to loading the bike with 250 lbs or more. If you usually ride two-up, again, they will be to your liking.
Thanks to progressive spring technology, these are going to feel very comfortable, whether you face big obstacles or small obstacles.
Overall, they will be an impressive upgrade, as the stock shocks don't even compare.
Unfortunately, the stock shocks are adjusted at the factory to meet the requirements of solo riders.
For this reason, most two-up riders need an upgrade so they can enjoy a good ride, and 412-4077B will certainly do the trick.
Pros
Ideal for two-up riders
Easily adjustable with a spanner wrench
Value for buck
Cons
Not the best for heavier people and two-up riders.
07. BURLY B28-1202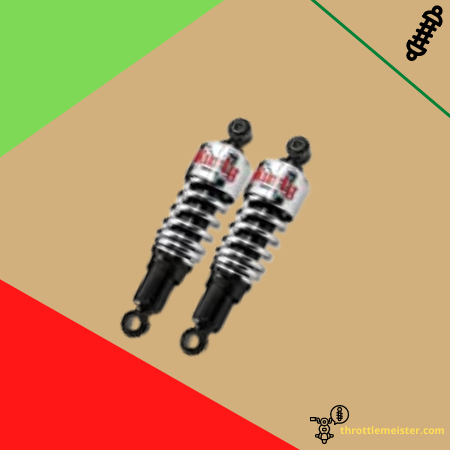 Highlighted features
5" height
Fits Harley Dyna bikes
Can be fine-tuned according to your weight
Good suspensions for lowering the bike
Adjusting wrench included
First of all, we want to make it clear that the B28-1202 model is for Harley Dyna bikes. That includes Street Bob, Low Rider, Fat Bob, and Wide Glide.
Even so, Burly manufactures and sells shocks for all Harley Davidson models, so we recommend that you check out this brand no matter what Harley you own.
B28-1202 is only 10.5", ideal for those who want to lower their bikes. If the current height of the motorcycle you have will not allow you to sit flat-footed on the ground, consider purchasing this set.
These shocks are adjustable with a spanner wrench that you will find in the package, but – as with other shocks – many customers have complained that the wrench breaks down too quickly.
Even so, the shocks themselves will not disappoint!
Pros
Perfect if you want to lower your bike
Very comfortable despite the low height
Eye pleasing
Cons
Exclusive to Harley Dyna bikes
08. Progressive Suspension 444-4020B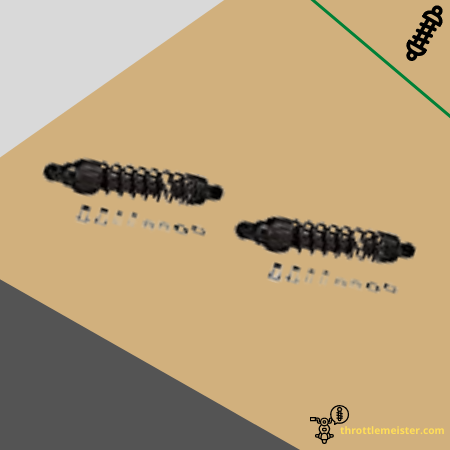 Highlighted features
13" height
Heavy Duty
Adjustable by hand
FST (Frequency Testing Technology)
Mid-range model
As customers who have tried the 444-4020B model say, these shocks will make you feel disconnected from the road.
Obviously, what they meant by this is that you won't even feel most of the holes on the road.
These are Heavy Duty shocks, but you can also find the same model with Standard Duty springs.
So how is this Progressive Suspension model different from the others? Well, for example, the first shock on this list, 944, is a little bit shorter than this one, allowing you to lower the ride height.
To be more precise, 444-4020B is 13" long. In case you don't want to sacrifice any ground clearance or suspension travel, these ones are what you're looking for.
Pros
No tool is needed to adjust
Long suspension travel for increased comfort
Great dampening in any conditions
Cons
Stiffer than other shocks
09. SMT 10.5" REAR SHOCK ABSORBER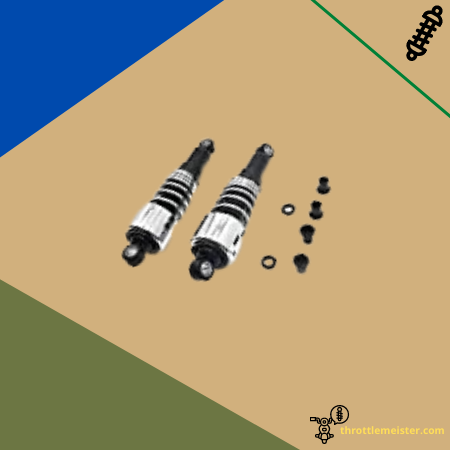 Highlighted features
5" height.
Compatible with many models.
Adjustable to the weight of rider, passenger, and cargo.
Stubby shocks.
Wrench included.
This is a much more affordable alternative to Burly products. They look almost the same, they have a specific length of 10.5", and you'll be pleased to find out that these are very close in terms of durability as well.
Much like the others, the preload of these can be adjusted with a wrench.
The difference is that the wrench is also much more trusty and you will be able to adjust the shocks as much as you like.
It is compatible with a large number of Touring models, be it Road King, Road Glide, and so on.
Clients are very happy because, despite how short these shocks are, they make you forget about bumps in the road.
Pros
A great alternative to Burly.
Lowers the bike quite a lot.
10. OHLINS HD 022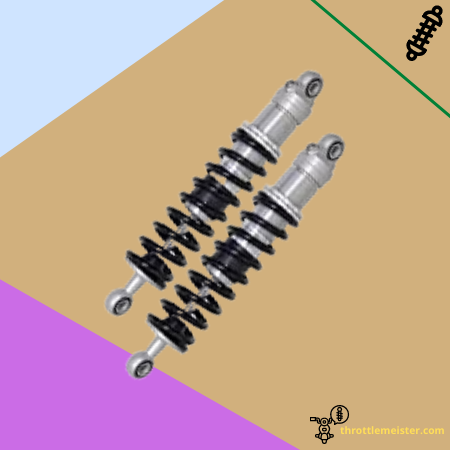 Highlighted features
13" height
Ohlins will do the adjusting for you
Enhanced handling
Pre-load adjustable
Ohlins entry-level
Ohlins shocks are perfect for those who are willing to pay a larger amount of money in order to ensure that their ride experience is as smooth as possible.
What we like most is that they take care of their customers. When buying, they will make the correct settings themselves depending on the model of the motorcycle, your weight, the passenger, and depending on your riding style.
For this reason, you don't need to know what the spring rate of this shock is, as they'll take care of everything.
Instead, what you need to know is that Ohlins HD 022 will convince you to never go back to stock shocks again.
Pros
You won't have to do the adjusting.
Perfect for any situation on the road.
Incredible comfort.
Cons
Although entry-level, more expensive than other shocks on the market.
11.

XKH 10.5" Rear Shock Absorber
Highlighted features
5" height
Standard Duty
Cheaper alternative
Adjustable to rider's weight
Compatible with 1984-2013 Touring
XKH is a brand you probably haven't heard of, but the bike shocks market is full of more or less well-known manufacturers that have very good products.
This model, which has a height of 10.5″ eye-to-eye, is perfect for those who want to try something different.
You may think that Progressive Suspension, Burly or Legends are too overpriced. And, although we are not of the same opinion, we also offer other brands, such as XKH.
These shocks will greatly improve the handling of your Harley Touring bike and you will feel a considerable improvement compared to other shocks, especially the stock ones.
Pros
Surprisingly good handling.
Great improvement from stock shocks.
12. Kcint Lowering Air Shocks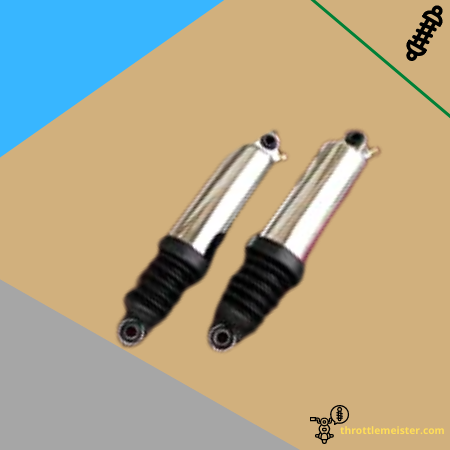 Highlighted features
12" height
Air shock technology.
Fits 1980-2017 Tourings.
Requires a hand pump.
Air compressor will damage shocks.
We continue the list with another alternative for you. If you prefer air shocks over spring shocks, consider buying this KCINT model.
In other words, they work very similarly to stock shocks, but that doesn't mean they will perform the same.
In fact, most customers say they are pleasantly surprised by these shock absorbers, and this may be due to the affordable price.
They have a height of 12", which is neither too low nor too high, perfect if you're looking for something standard to replace your current shocks with.
One thing you should be careful about is that they don't come with lines or fittings. You're supposed to either use the old ones or purchase new lines and fittings.
Pros
Air shock technology.
Standard height.
13. Legends Revo-a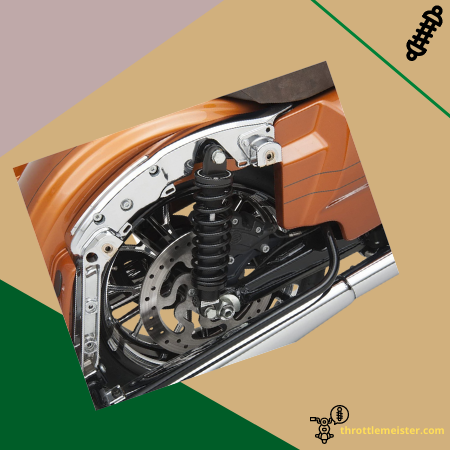 Highlighted features
12" height
Can be adjusted according to the rider's weight
Huge improvement over the stock shocks
Optimum rebound performance
Adjustable by a knob with 6 adjustments
We end the list with a product that you can fully trust. Legends have already stood out for their high-quality products, and the Revo-A model is one of the most popular shocks they offer.
They have a standard height of 12 inches and are intended to be used both by heavy riders and no so heavy riders.
According to Legends, their Heavy Duty models are intended to be used by riders who accumulate over 500 lbs with their passengers and cargo.
Sure, you can use them even if you don't acclimate that much weight, but you may find them stiff if you do choose them.
To avoid this, we recommend that you adjust these shocks accordingly, using the 6 external knob adjustments.
In other words, Revo-A is a great choice no matter how heavy you are, because you'll always be able to do some adjusting, without even needing a tool.
Last but not least, they are intended both for those with an aggressive style and for those with a more casual approach.
Pros
Doesn't require a tool for adjusting.
Great both for light and heavy riders.
Clear anodized finish.
Buying Considerations of Best Shocks For Harley Touring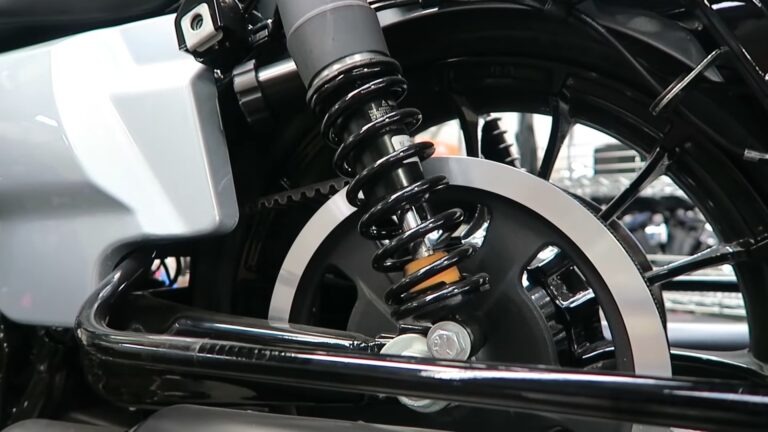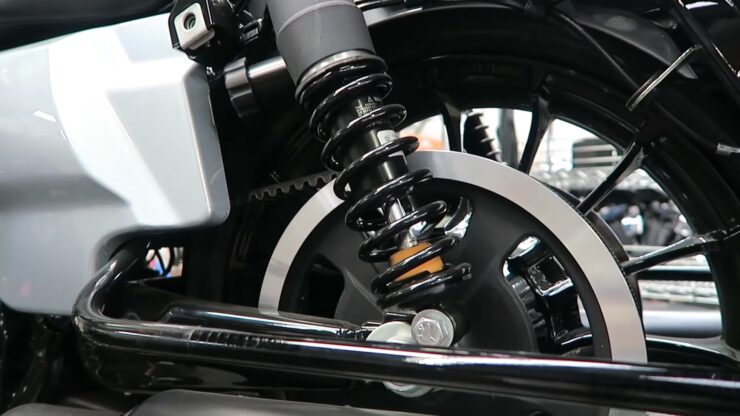 Most of the shocks you will encounter are good. The motorcycle suspension market is a healthy one, you will rarely see products that are objectively bad.
Instead, you need to be careful about buying the one that best suits the motorcycle you are using, as well as your preferences.
In other words: how heavy are you? What's the ride height that you're trying to achieve? Are you looking for a stiffer or a smoother shock? All these are questions that you yourself need to answer.
Spring rate: Standard, Heavy, or Super Heavy Duty?
Spring rate is the most important feature for shock absorbers, as it refers to how much resistance shocks can create. A high spring rate means stiffer shocks.
Standard Duty will have less resistance, adapted to a lower weight, while Heavy Duty – you guessed it – means stiffer springs.
Generally, you want to buy something with Heavy Duty if the weight on the bike is high: this includes rider, passenger, cargo, and accessories.
Yes, weight matters the most, but it also matters how often you put cargo on the bike, as well as how often you ride with a passenger. In other words, frequency also plays an important role.
If, say, you exceed the weight recommended by a standard duty shock from time to time, there will be no problem.
But if you surpass that limit too often, the shocks can wear out, which will significantly reduce its performance over time.
Many make the mistake of opting for a Heavy Duty shock, although they do not put too much weight on the bike.
This causes the ride comfort level to decrease as the shock feels too stiff.
In some respects, motorcycle suspensions can be compared to mattresses.
There are softer mattresses and stiffer ones, depending on everyone's preferences. But that doesn't mean a heavier person won't be able to sleep on a softer mattress.
It's all about the feeling that you're trying to achieve when riding the bike.
Ride height
Another important factor to consider is the ride height.
Many riders want a lower bike, but this could limit the suspension travel, therefore reducing your comfort by a little bit.
It can even be dangerous if your shock is so short that it bottoms out from time to time because there is no room for travel whatsoever.
As a rule of thumb, suspension travel is longer for longer shocks, which means a better ride experience.
But here is something interesting that you're going to notice. If your stock shock is about 12" and you purchase a 13" shock, the latter is going to feel almost the same, mainly because of the compression.
However, the 13"  one is still going to have more suspension travel than the original one.
In any case, the stock height that your bike has matters a lot here. Take your measurements first or contact the company that you're buying from.
They will help you gladly, so you won't have to spend money on something that doesn't even fit.
And if you're going to lower the rear end of the bike, make sure you do the same for the front end, otherwise, you might change the entire bike's geometry.
Progressive rate spring
The vast majority of bikers will tell you that progressive rate springs are the way to go, as they are much much better than linear-rate spring shocks.
The way they work explains it all. In short, as a progressive rate spring is compressed, its rate increases, becoming stiffer and stiffer.
So how important are these? Well, this technology aims to provide the rider a high level of comfort both when dealing with both small and big holes or obstacles on the road.
This is because, unlike regular springs, the distance between coils is not equal, but varies.
Unlike progressive springs, linear-rate springs tend to react the same to both small and large obstacles. Needless to say, this won't feel as comfortable…
Frequently Asked Questions About Best Rear Shocks For Harley Davidson Touring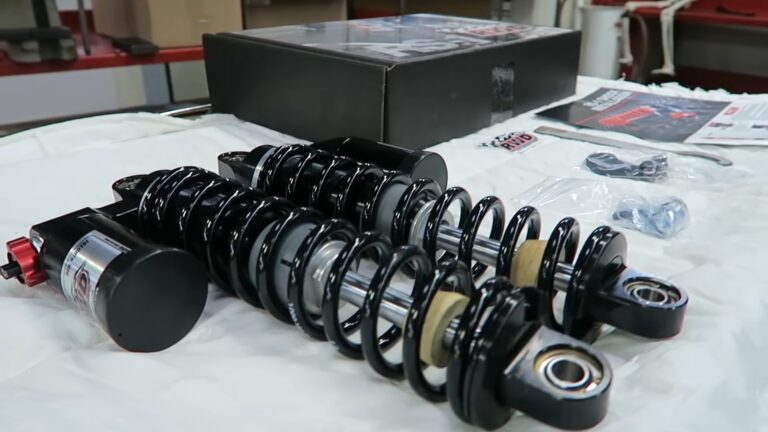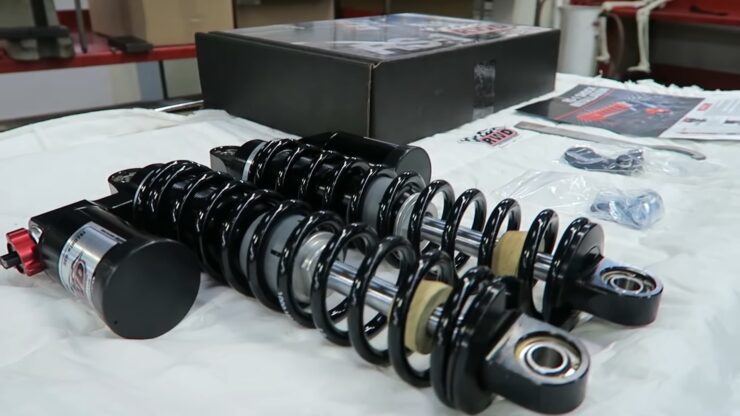 Q: How do I choose motorcycle shocks?
A: There are a few things to look out for. You need to consider the spring rate of a given shock, the ride height which you are trying to achieve, how adjustable it is and so on.
To determine the perfect height, it's best to take measurements of your bike first: there are countless tutorials on how to do this on the internet.
Next, you need to think about how much weight your bike will have to bear.
Consider your own weight, the weight of your passenger, and also how much cargo you keep on the motorcycle. Depending on these, you will know which spring rate to choose.
Q: Should I adjust my shocks?
A: Every rider has their own weight, their own habits, and for these reasons, all shocks must be adjusted accordingly.
Motorcycles and their shocks are adjusted for the average rider, but those adjustments are unlikely to suit you.
Adjustment is necessary even if you buy new shock absorbers, for the same reason: each rider has different needs and expectations.
Q: How long do shock absorbers last on a motorcycle?
A: There is no time period after which shocks need to be replaced because what really matters is how worn they are.
The quality of the road you ride on is also very important. A poor quality road is more demanding for shocks, which will drastically reduce their performance.
It also matters how much those shocks cost you, as well as the total weight, including your passenger and the cargo.
Some riders recommend changing your shock absorbers once every 50,000 miles, and others less than that.
Q: Do shocks require any maintenance?
A: Yes, you have to keep your suspensions clean, as dirt can get inside of them and essentially reduce their performance.
Moreover, you have to be very careful with oil leaks. Whether it's a small or large leak, the shock has to be taken to a mechanic or you could even get new ones altogether.
Again, keep your suspensions clean, as it will be almost impossible to spot oil leaks if the shocks are dirty. Oil leaks are not always obvious.
Q: Does lowering a Harley affect handling?
A: In some cases, it might even improve handling.
Many people will tell you that lowering a bike will reduce the travel suspension and ground clearance, and they are mostly right.
But some people have stated that lowering their bikes has actually improved handling.
One thing that you should be careful about is lowering both sides equally. Lower the back end of the bike more than the front end and you'll end up riding a chopper.
Q: What are the best Harley shocks?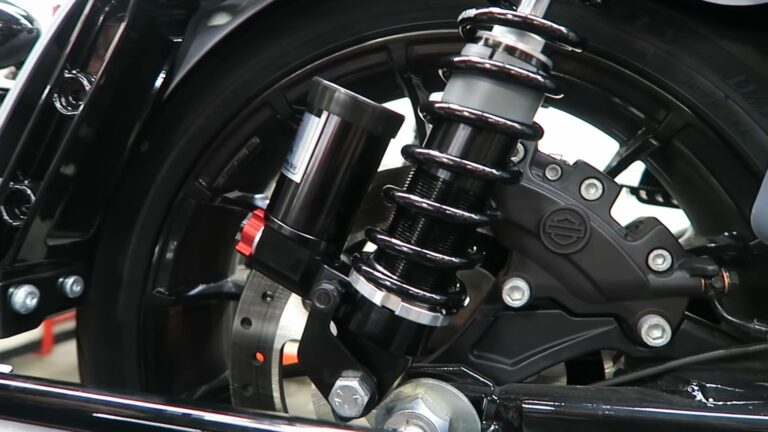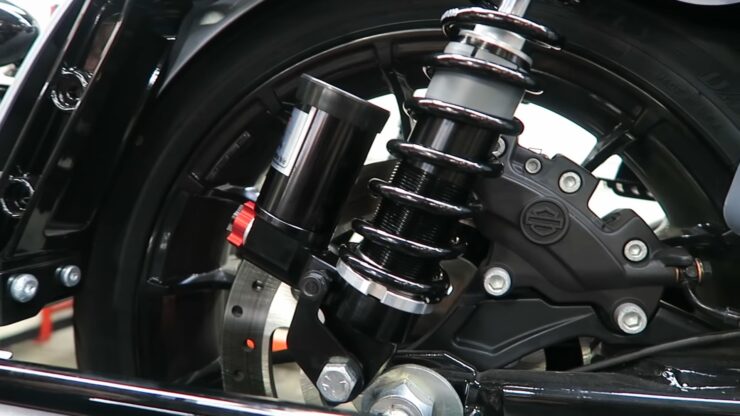 A: Shocks are components that depend a lot on the motorcycle you use and your personal preferences, load, etc.
But we recommend you take a look at Progressive Suspension 944-4020UT, which we examined in this article.
They fit Harley Touring motorcycles. They have Heavy Duty, if Standard Duty is not enough for you.
If you usually ride with a partner or have heavy luggage accumulating over 240 lbs +, these might be the ones for you.
Q: Are Progressive shocks worth it?
A: Progressive Suspension is a very popular company specialized in motorcycle shocks, and for very good reasons.
They are a very good upgrade over stock shocks, and everybody seems to agree on motorcycle forums in this regard.
People who are passionate about motorcycles are generally people who know very well what they're talking about. Therefore, their opinion on Progressive Suspension should be taken into consideration.
Overall, although they can be a little expensive for some people, we recommend Progressive Suspension shocks.
Q: How do I make my motorcycle ride smoother?
A: A great and easy way of making your motorcycle ride smoother is to buy better shocks. They can be changed relatively easily, and will greatly improve your bike's handling.
Moreover, it is even recommended to change the stock shocks of your bike, especially if you are used to riding with a passenger, if you're heavy yourself or if you generally pack a lot of cargo on your bike.
Depending on these criteria, good shocks will definitely increase the comfort level.
Q: What do progressive shocks do?
A: Progressive rate is a term that should not be confused with Progressive Suspension. The more progressive shocks are compressed, the more their resistance will increase.
If you think about it, their name is self-explanatory: these shocks become progressively stiffer in the right situations to ensure that you don't bottom-out.
Q: Why should I upgrade my suspension?
A: The suspensions are particularly important parts for your motorcycle, as it greatly impacts handling. A carefully chosen shock will greatly enhance your riding experience.
As you probably know, bikers are not very happy with the stock suspensions so they prefer to buy better ones.
It's also about safety, not only about comfort. Since these will make the bike harder to control, poor quality suspensions can even put your life in danger.
Conclusion
To conclude the article, we must remind you that most companies that produce and sell bike shocks are to be taken seriously, as they produce and sell high-quality products, according to a large number of customers.
However, you must make sure that the product you buy fits the bike model,  that it's installed correctly, and last but not least, that you do not exceed the weight recommended by the manufacturer.
If these weren't enough, check out some other picks from Amazon also: